The food storage containers from Home Depot are crucial equipment for effectively and properly preserving a variety of food items. These containers come in a range of forms, dimensions, and materials to meet various storage needs. They provide airtight sealing to maintain the freshness of perishable items and shield them from contamination. They are often constructed from metal, glass, or plastic. Containers reduce food waste and encourage effective meal preparation by organising refrigerators, freezers, and pantries. These containers ensure food safety, a longer shelf life for things stored, and a clean, well-organized kitchen environment when used and maintained properly.
5 Most Liked Food Storage Containers on Home Depot
1. Bread Pan W/T Dark Gray Bamboo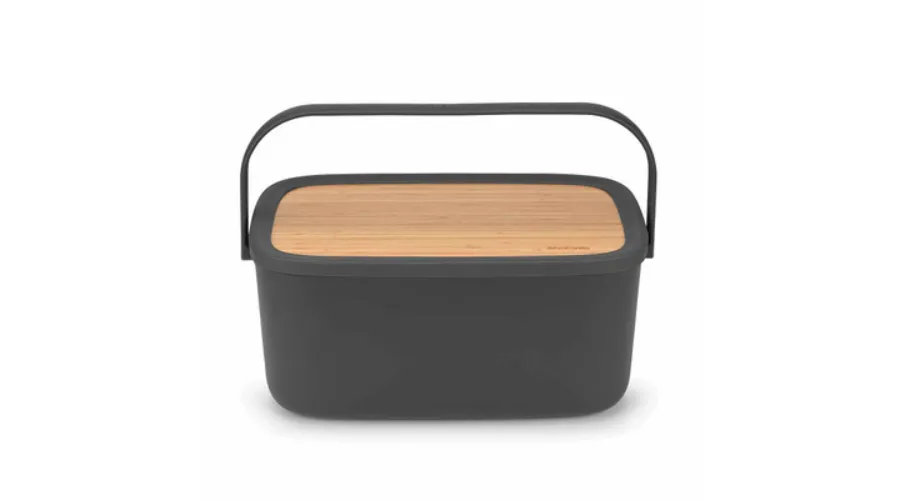 An elegant and useful food storage container with a length of 39.5CM, the Bread Pan W/T Dark Grey Bamboo. Its design has a ribbed bottom that guarantees ideal airflow for the stored contents, keeping them dry and fresh. The container's useful carrying handle makes it simple to move and manage. Additionally, the bamboo lid gives the overall design a feeling of refinement, making it a fashionable addition to any pantry or kitchen. With its 16x39x25 dimensions, this container provides plenty of room to store a variety of food items while keeping them organised and simple to find.
2. Set 5 Plastic/Stell Pop Container
The Set 5 Plastic/Stell Pop Container is a flexible and useful storage option that combines the strength of plastic containers with the usefulness of Oxo stainless steel lids. Your stored items will stay safe and fresh thanks to these containers' pop-button operated airtight sealing. The pop button on the stainless steel lid works as both a handle and an airtight seal, making it simple to open and close the containers. A range of daily requirements can be stored in the set's five containers, which come in various sizes. Dishwasher safe silicone gasket was employed in the containers' construction, making cleanup quick and simple. You can keep organisation in your pantry, kitchen, or other areas while assuring effective storage of food and safeguarding the quality and freshness of your stored foods with this set of POP containers.
3. Set 2P Presso Plastic Container 2L
For your kitchen's storage requirements, the Set 2P Presso Plastic Container 2L offers a flexible and reliable option. These containers are manufactured of dependable polycarbonate, are designed to withstand extreme temperatures, and have a long lifespan. The jar itself is microwave safe, with the exception of the cover, making the warming process more practical. With no risk of deterioration or discolouration, this collection offers complete flexibility in storing a wide range of materials, from scorching liquids to extremely acidic compounds. These effective and user-friendly design containers make it easy to organise and preserve your favourite foods. They are dishwasher safe, making cleanup a pleasure, and they are useful and handy storage options for any kitchen.
4. Kilner Stackable Storage Jar Set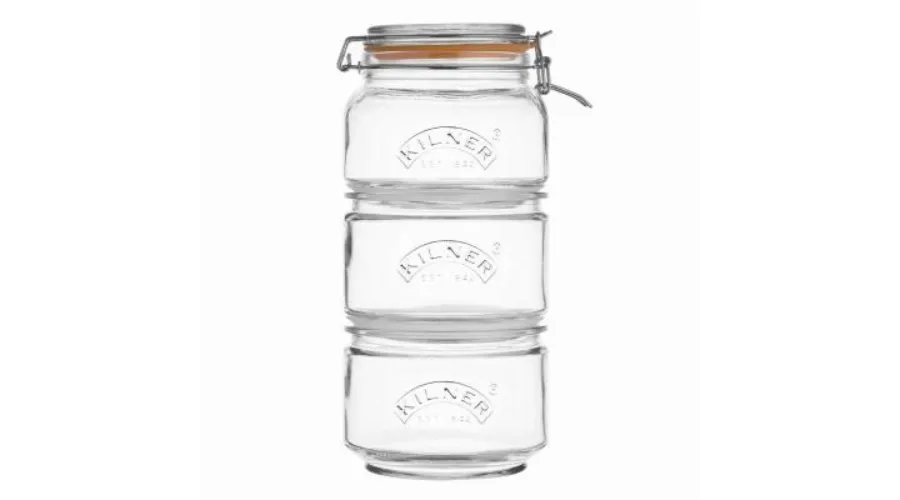 The Kilner Stackable Storage Jar Set, which includes a 0.9 Litre Clip Lid and two 0.88 Litre Mason Jars, is a flexible and useful storage option. Because it is designed to preserve the freshness of dry food items for a longer amount of time, this food storage set is the ideal addition to any kitchen, pantry, or pantry organisation. Cleaning and maintaining these jars is simple because they are dishwasher-safe. It is simple to recognise and access your stored goods because of the transparent design, which makes it possible to see what's within. These containers offer a space-saving and aesthetically beautiful storage option for a variety of uses, whether you need to keep your kitchen supplies organised, store pantry items or organise bathroom essentials.
5. Set of 7 Kitchen Containers
A useful and adaptable storage option, the Set of 7 Kitchen Containers was created to add extra room in the refrigerator for storing a variety of foods, fruits, and vegetables. The containers' practical form blends well with any kitchen decor, and its transparent construction makes it simple to see what's within, making it easier to locate stored objects. The set includes a giant container (4100 ml capacity), two 1500 ml size medium containers, and four 470 ml capacity tiny containers. This will maximise the amount of storage space available by stacking all of these food storage containers. These plastic food containers provide a useful and effective solution to keep your food fresh and arranged because of their sturdy and long-lasting composition.
Conclusion
The Home Depot food storage containers will thus aid in preserving the quality and freshness of our food supplies. For organising and preserving different goods in our kitchens, pantries, and refrigerators, these containers provide useful alternatives. These containers provide effective preservation while permitting simple visibility of the contents inside due to airtight sealing and clear designs. Whether it's for storing leftovers, pantry basics, or perishable items, investing in high-quality containers helps avoid food waste, improves food safety, and contributes to a well-organized and efficient kitchen. Overall, these adaptable equipment are essential for modern cooking techniques, making storage of food practical, effective, and sustainable. For more information, visit Noble Puma.
FAQs