A well-designed kitchen sink is an essential element in every household. It not only serves practical purposes but also contributes to the overall aesthetics of your kitchen. When it comes to high-quality kitchen sinks, Home Depot is a trusted name that offers a diverse range of options. In this blog, we will delve into the world of kitchen sinks by Home Depot, exploring their features and benefits. Whether you're renovating your kitchen or starting from scratch, this comprehensive guide of NobelPuma will provide valuable insights to help you make an informed decision.
The Importance of Modern Kitchen Sinks
Before we dive into the details, let's understand why a modern kitchen sink is crucial for your home:
A functional and

stylish kitchen sink

enhances your kitchen's efficiency and workflow.

It serves as a centerpiece, adding to the overall visual appeal of your kitchen.

Modern kitchen sinks come with innovative features, making kitchen tasks more manageable and enjoyable.

Easy maintenance and durability ensure long-term use, making it a worthwhile investment.
Home Depot's Impressive Range of Kitchen Sinks
Home Depot offers an extensive collection of kitchen sinks that cater to various needs and preferences. Some popular options include:
Stainless Steel Sinks

: These sinks are a timeless classic, known for their durability, resistance to stains, and easy cleaning. They suit most kitchen styles, from contemporary to traditional.

Composite Sinks

: Made from a mix of materials like quartz and acrylic resins, these sinks are highly durable, non-porous, and resistant to scratches and chips.

Fireclay Sinks

: If you're looking for a more rustic or farmhouse-style sink, fireclay sinks are an excellent choice. They are made from clay and glaze and are known for their elegant, glossy finish.

Undermount Sinks

: These sinks are installed beneath the countertop, providing a seamless and clean look. They are perfect for modern kitchens with sleek designs.

Top-mount Sinks

: Also known as drop-in sinks, they are easy to install and suitable for all types of countertops.
1. Sink 1T49/1T41 Sub 100X44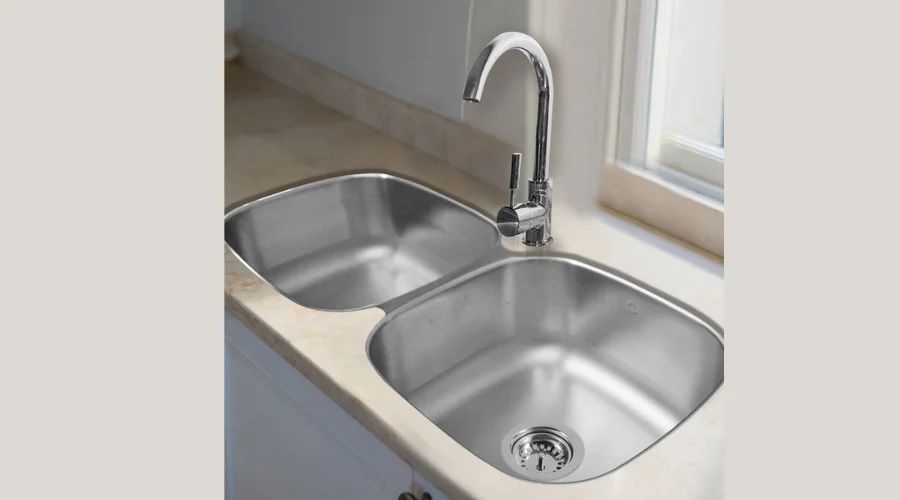 With dimensions of 100×44 cm, this sink provides ample space for all your kitchen tasks, from washing dishes to food preparation. The SINK 1T49/1T41 features a practical double bowl design, allowing you to multitask efficiently and separate tasks easily. This sink is crafted from high-quality materials, ensuring resistance to scratches, stains, and impact, keeping it looking pristine for years. The undermount design provides a seamless and clean look, as the sink is mounted underneath the countertop, showcasing the beauty of your kitchen surface. Home Depot has equipped this sink with sound-absorbing pads to reduce noise while you're washing dishes or using the disposal. The smooth surface of the SINK 1T49/1T41 SUB 100X44 makes it effortless to clean and maintain, saving you time and effort in your daily kitchen chores.
---
2. EB Sink 2 Tubs W/Double Drainer 188 X 54 cm Recessed C123
The EB Sink 2 Tubs with Double Drainer offers ample space for your kitchen needs. With a size of 188 x 54 cm, it provides a generous area for washing, preparing, and drying dishes. The sink's dual-tub design allows you to separate tasks efficiently, such as washing dishes in one tub while preparing food in the other. The integrated double drainer provides convenient space for air-drying dishes and utensils, reducing clutter on your countertops. The sink is designed for recessed installation, creating a seamless and sleek look that complements any kitchen style.
---
3. Left Sink 1 Tub And 1 Drainer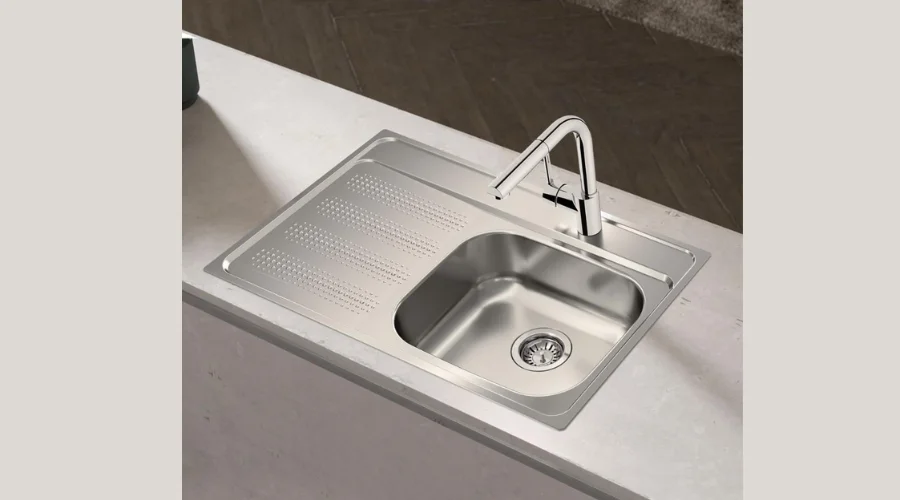 The Left Sink 1 Tub and 1 Drainer features a spacious single tub for washing dishes and food preparation, accompanied by a drainer to air-dry your dishes without cluttering your countertop. The left-handed layout of the drainer ensures seamless workflow for right-handed individuals, allowing for easy transition from washing to draining. Crafted from durable materials, this sink offers resistance to stains, scratches, and dents, ensuring long-lasting performance and maintaining its pristine appearance.
---
4. Tekaway Sink 800.510 1C 1E D
The Tekaway Sink 800.510 1C 1E D features a well-designed double bowl layout, providing you with separate spaces for food preparation and dishwashing, allowing for efficient multitasking. Crafted from high-quality materials, this sink offers excellent resistance to scratches, stains, and impact, ensuring a long-lasting and pristine appearance. The built-in draining board offers a convenient space to air-dry your dishes, keeping your countertop clutter-free and organized.
 The smooth surface of the Tekaway Sink 800.510 1C 1E D makes cleaning effortless, allowing you to spend less time on maintenance and more time enjoying your kitchen.
---
5. Double Black Quartz Sink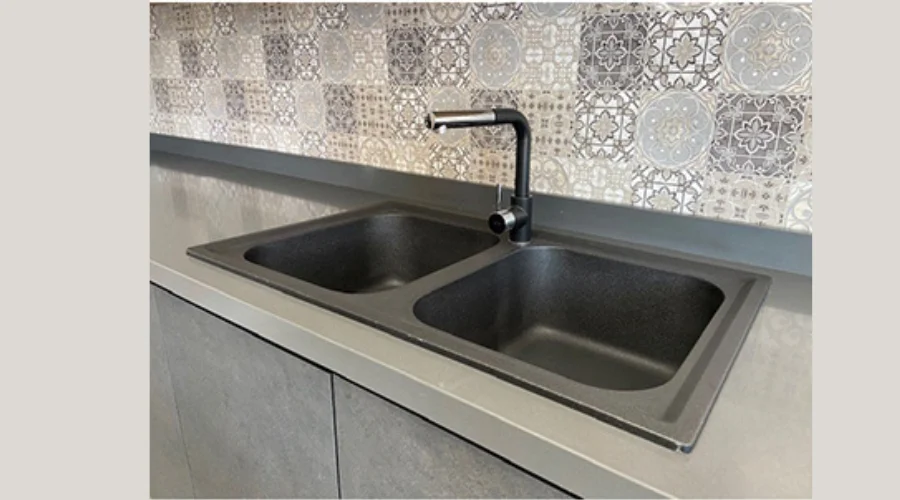 The Double Black Quartz Sink features two spacious bowls, allowing you to multitask efficiently by separating food preparation from dishwashing. Crafted from black quartz, this sink is not only visually striking but also highly durable, resistant to scratches, stains, and heat, ensuring longevity. The smooth surface of the quartz sink makes cleaning a breeze, requiring minimal effort to maintain its pristine appearance.Home Depot has equipped this sink with sound-absorbing pads to minimize noise while using the sink, creating a more peaceful kitchen environment.
---
Features to consider while choosing the best sink for your kitchen 
When choosing the perfect kitchen sink for your home, consider the following essential features:
Size and Configuration: Determine the size and number of bowls based on your kitchen's dimensions and your cooking needs.

Material Quality: Choose a sink material that suits your lifestyle and complements your kitchen's design.

Depth of the Sink: Consider the depth that would be convenient for your daily tasks while accommodating large pots and pans.

Faucet Compatibility: Ensure that the sink is compatible with the faucet style you desire.

Noise Reduction Technology: Look for sinks with sound-absorbing pads or spray coatings to minimize noise while using the sink.

Additional Accessories: Some sinks come with accessories like cutting boards, drying racks, and colanders, enhancing the sink's functionality.
The perfect Combination: Cabinet with Sink for Kitchen
To complete your kitchen setup, Home Depot also offers cabinets with integrated sinks. This combination offers several advantages:
Space Optimization: Cabinets with built-in sinks make the most of your kitchen's available space, providing a seamless and efficient setup.
Stylish Designs: These cabinets are available in various styles and finishes, allowing you to choose one that matches your kitchen decor.
Functional Features: Many cabinets with sinks include ample storage space for kitchen essentials, keeping your workspace organized and clutter-free.
Conclusion
Choosing the right kitchen sinks is a decision that impacts your daily kitchen routine and the overall ambiance of your home. Home Depot's impressive selection of modern kitchen sinks caters to diverse preferences and needs, ensuring that you find the perfect match for your kitchen. Remember to consider factors like size, material, and configuration while also exploring the option of a cabinet with a sink for additional functionality and aesthetics. For more information, visit Noble Puma.
FAQs