In the heart of every home, the kitchen stands as a place of creativity, warmth, and delicious aromas. To craft culinary masterpieces, a well-equipped kitchen is essential. Among the many appliances available, floor gas stoves with ovens and iron grills have become a favorite choice for both amateur cooks and seasoned chefs. NobelPuma has curated a list of versatility, benefits, and the top 5 of these kitchen marvels from Home Depot, exploring how they have become the ultimate cooking companion for households worldwide.
The benefits of floor gas stoves with oven and iron grills:
a) Faster Cooking Times:

Gas stoves and ovens

provide quicker preheating times compared to their electric counterparts. This feature is especially beneficial for busy households, allowing cooks to prepare meals more efficiently.

b) Energy Efficiency: Gas stoves are known for their energy-efficient feature, as they use less energy compared to electric stoves. This feature not only helps reduce utility bills but also contributes to a greener and safer environment.

c) Even Cooking: The combination of floor gas stoves with oven and iron grills ensures even cooking throughout the meal preparation process. This consistency guarantees that each dish is cooked to perfection which eliminates the risk of overcooking or unevenly cooked food.

d) Cooking with Precision: The fine-tuned temperature control

offered by gas stoves

enables precise cooking techniques. From searing meats to sautéing vegetables, cooks can achieve the desired results with ease.

e) Versatile Culinary Creativity: With a floor gas stove equipped with an oven and iron grills, there are endless culinary opportunities to explore. Home chefs can experiment with various cooking methods and recipes with them to let their creativity flourish in the kitchen.
Top 5 modern gas stoves you'll find on Home Depot for an efficient cooking experience:
1. Gas Built-in Stove 78 X 76 X 64 cm Koblenz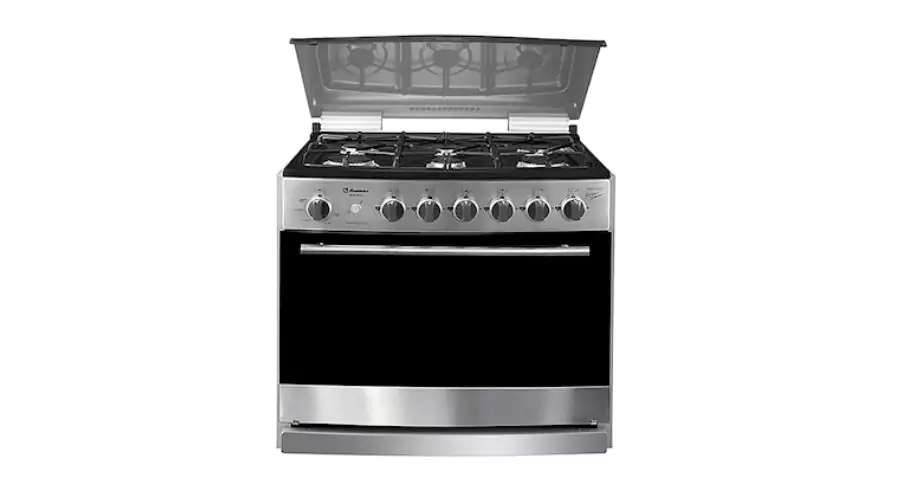 Experience the perfect fusion of style and functionality with the Koblenz 30-Inch Convertible LP Gas to Natural Built-In Stove. The stove boasts a sleek black ceramic cover that adds a touch of elegance to your kitchen decor. With 2 cast iron grills and 6 burners, the Koblenz stove ensures even and efficient heat distribution for precise cooking. The ample space interior provides enough room for large dishes, making it suitable for family gatherings and special occasions.
---
2.  LP Gas Floor Stove- 30 inches Whirlpool
Crafted with precision and built to last, the Whirlpool 30-Inch LP Gas Cooktop is a culinary powerhouse designed to elevate your cooking experience. Its strong and durable stainless steel cooktop exudes sophistication and complements any kitchen decor. Equipped with 3 matte wire rod grills, the cooktop provides a sturdy and reliable surface for all your cooking needs. Cleaning up after cooking is a breeze, thanks to the Ever Clean technology incorporated into the oven. This innovative cleaning system ensures a sparkling clean oven with minimal effort.
---
3. Gas Floor Stove-76 cm Mabe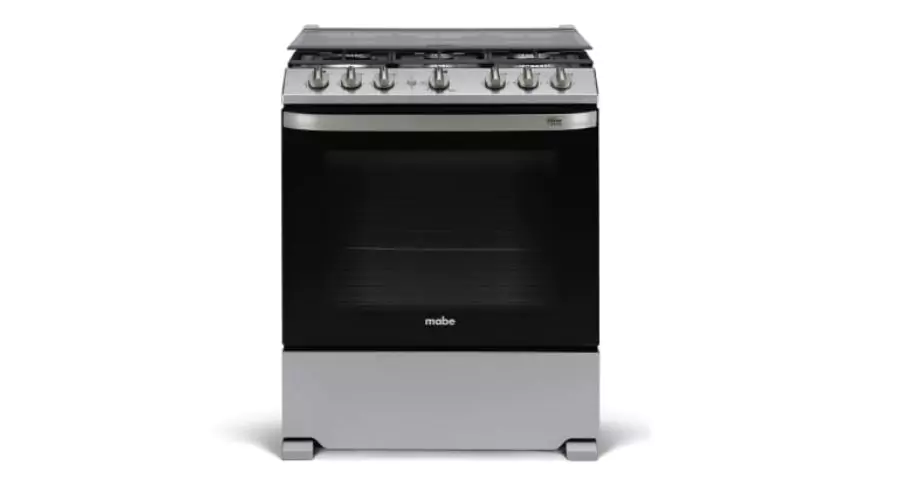 This gas stove features a Teflonized griddle to ensure a non-stick surface, perfect for preparing breakfast favorites or searing succulent meats. The electronic ignition by button provides effortless and reliable starts, while the burners, including 3 jumbo, 2 standard, and 1 double professional ring tech seals, deliver precise heat control for versatile cooking options.
---
4. Built-in Gas Stove-30 inches Koblenz
This masterpiece of Koblenz is equipped with top-of-the-line features that will change your kitchen into a gourmet haven. The stove features an impressive 6 burners, including 1 supernova max burner, 1 jumbo supernova, and 4 standard Supernova burners. Automatic electronic ignition on the burners and oven ensures a seamless start to your cooking adventures. The Bluinnove blue oven offers maximum capacity, providing ample space to create culinary delights for gatherings or intimate dinners. Additionally, its innovative design allows for easier cleaning, making maintenance a breeze.
---
5. Gas Floor Stove Display Glass Touch-76 cm Mabe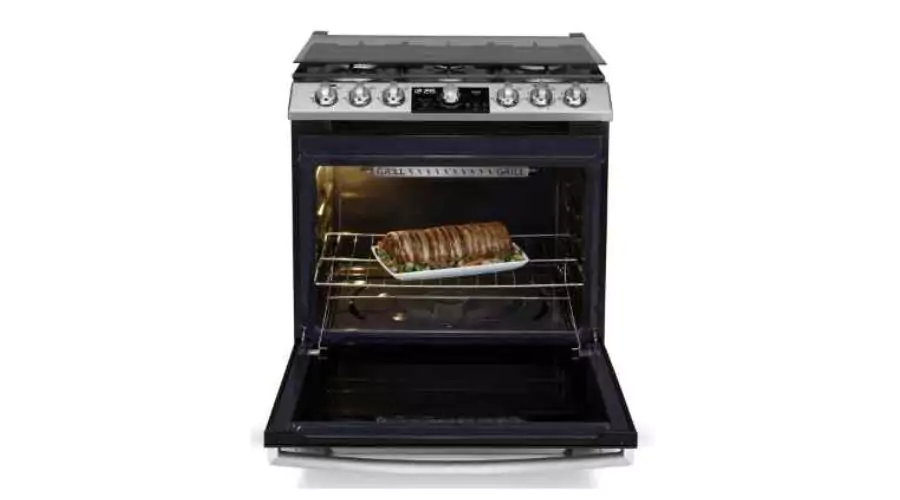 Crafted with precision and designed to impress, the Mabe Stainless Steel Gas Floor Stove is a kitchen marvel that will elevate your cooking experience to new heights. Its stunning glass touch display adds a modern touch, allowing for intuitive control of various programmable functions, including interior light, timer, and programmable shutdown. Its advanced features like Perfect Cook Technology, Easy Clean Pro coating, and Steam Clean Manual simplify maintenance, keeping your stove in top-notch condition.
---
Conclusion:
As we conclude this exploration of floor gas stoves with ovens and iron grills, it becomes evident why they have become the ultimate cooking companion for homes worldwide. From the efficiency and precision of gas cooking to the versatile culinary possibilities of the oven and grill, these appliances offer many benefits. The combination of a floor gas stove, oven, and iron grills enhances the cooking experience, allowing home chefs to embrace their passion for culinary creativity. Whether preparing a quick weeknight dinner or hosting a gourmet feast, these kitchen marvels from Home Depot prove to be an indispensable tool in creating culinary delights that bring joy and nourishment to our loved ones. For more information on cheap gas stoves, visit Noble Puma. 
FAQ's