Are you tired of rummaging through cluttered spaces? Say goodbye to the mess and welcome the convenience of plastic boxes. In today's fast-paced world, organization and decluttering have become essential for maintaining an efficient and peaceful living environment. Home Depot, a renowned home improvement retailer, offers a wide range of plastic organizer boxes designed to help you streamline your storage needs. From small to large sizes, these durable and versatile boxes are suitable for keeping your items in your home, garage, or workspace organized. In this blog, let NobelPuma explore the benefits and practical uses of Home Depot's plastic container boxes, and why they are a popular choice among homeowners and DIY enthusiasts.
Benefits of using plastic boxes for storage
Using plastic boxes for storage offers several benefits that contribute to organization, convenience, and protection.
Durability: Plastic organizer boxes are known for their durability and resistance to wear and tear. They can hold heavy loads, frequent handling, and various environmental conditions. Unlike cardboard or fabric storage solutions, plastic storage boxes are less prone to damage, ensuring long-lasting use.

Protection: Plastic boxes provide a protective barrier for your belongings. They shield items from dust, moisture, pests, and other potential sources of damage. Plastic is a non-porous material, which means that it doesn't absorb liquids and prevents moisture from seeping in that keeps your items safe and in good condition.

Visibility: Many plastic organizer boxes have a transparent design to let you see the contents without having to open each box. This feature makes it easier to locate specific items and saves time. Transparent plastic storage boxes are particularly useful for organizing and finding items in storage areas or when packing for trips.

Stackability:

Plastic boxes are designed

with stackable features, enabling efficient use of vertical space. This makes them ideal for maximizing storage capacity, especially in small or limited spaces. By stacking boxes, you can create neat and organized storage systems, reducing clutter and optimizing your storage area.

Easy Maintenance: Plastic storage boxes are easy to clean and maintain. You can just wipe them down with a damp cloth or wash them with mild soap and water. Plastic is designed to be less capable of staining or absorbing odors as compared to other materials, making it a practical choice for long-term storage.

Mobility: Plastic container boxes are lightweight, making them easy to transport and move around as needed. They often come with handles or built-in grips, allowing for comfortable carrying. This mobility is particularly useful when moving, rearranging spaces, or accessing stored items in different locations.

Cost-effective: Plastic storage boxes are generally affordable and offer good value for money. They are a long-term investment that can be reused repeatedly, providing ongoing storage solutions without the need for frequent replacements.
Top plastic boxes on Home Depot for an effortless organization
1. Pink Plastic Box With Lid-5.7 L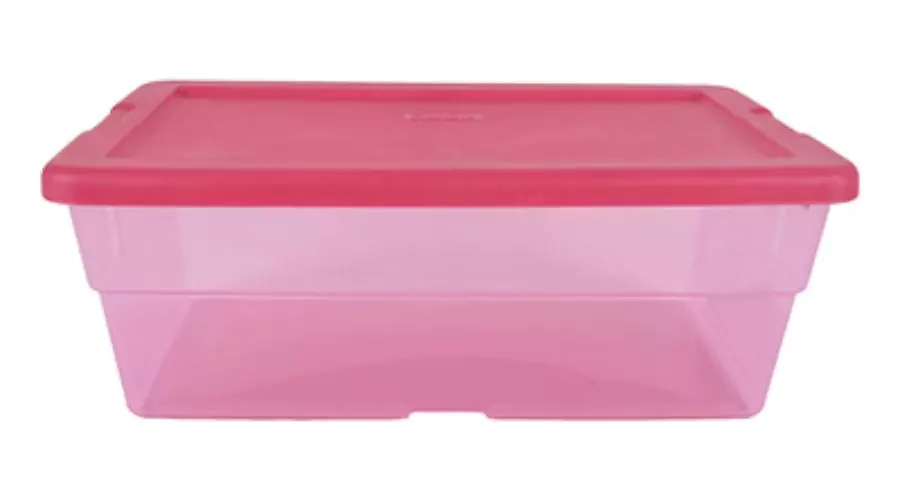 The capacity of this pink plastic box is 5.7 liters, which is designed to meet your organizational needs while adding a touch of style to your space. Crafted with highly resistant plastic, this transparent pink plastic box is built to last. The attractive pink color adds a vibrant and cheerful aesthetic to your storage area, making organization a visually pleasing experience. Comes with a lid to ensure that your stored items remain protected and gives you the flexibility to stack multiple boxes, maximizing your storage space.
---
2. Black Plastic Box-61 L
With dimensions of 60x41x32 cm, this black plastic box offers an impressive capacity that can accommodate a wide range of items. Made with polypropylene to ensure that this box is incredibly resistant to wear and tear. Its sturdy design and reinforced corners enable you to stack multiple boxes securely, creating a streamlined and clutter-free environment. The matte finish of this box adds a touch of sophistication to your storage area.
---
3. Blue Plastic Box With Lid-19 L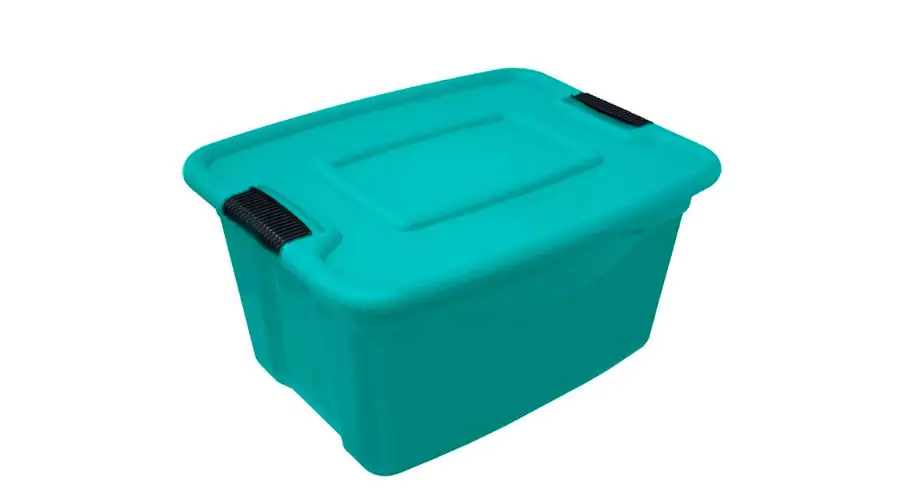 This blue plastic box has ample room for a variety of items, allowing you to declutter your space with ease. Whether it's clothing, accessories, tools, or toys, this box can handle it all. The lid of this plastic box features secure snaps, ensuring that your stored items remain in place during transportation. Whether you're moving the box in the house or taking it outside, your belongings are safe. The smooth surface can be easily wiped clean which allows you to keep your stored items in a clean and hygienic condition.
---
4. Transparent Plastic Box-24 L
This transparent plastic box is a storage solution designed to simplify your organizational efforts. With its innovative latch and transparent base, this box offers easy one-handed access and quick visibility to locate your belongings effortlessly. Experience convenience and efficiency like never before. It is designed to accommodate a wide range of items, making it suitable for organizing various belongings in your home, office, or even garage.
---
5. White Plastic Box With Handles-15 L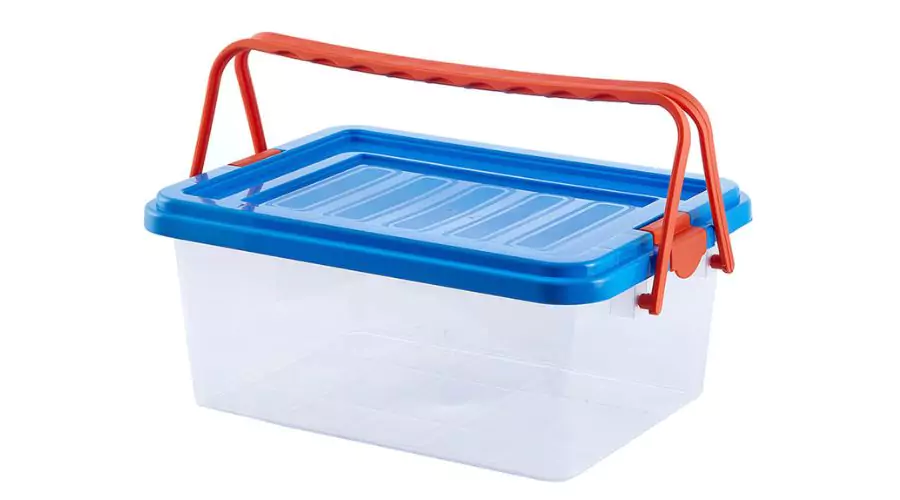 This white plastic box is here to simplify your storage and transportation needs. With a storage capacity of up to 15 liters, this box is ideal for organizing household items or office items which creates a clutter-free space and hassle-free mobility. The double exterior handle of this box enhances its usability, making it easy to grip and carry. With its translucent finish and blue lid, this plastic box combines practicality with style. The 2-side closure system ensures a hermetic fit, providing added protection for your items against dust, moisture, or other external elements.
---
Conclusion
Home Depot's plastic boxes are an excellent investment for anyone seeking to declutter and organize their living spaces. With their durability, versatility, and transparent design, these containers offer practical storage solutions for a wide range of applications. Whether you need to organize your home, garage, or workspace, Home Depot's plastic containers provide an efficient and reliable option. Embrace the benefits of a clutter-free environment and make use of these convenient storage solutions to keep your life easier. For more information, visit Home Depot and the official website of Noble Puma. 
FAQ's