Combining the worlds of a sports car and a grand tourer, the Audi RS7 stands as the ultimate representation of a high-performance luxury sedan. With its twin-turbocharged V8 engine, all-wheel drive capability, and sleek design, the RS7 captures attention on the road. However, its appeal goes beyond its impressive speed and power. Within its opulent interior lies a haven of comfort, making it an excellent choice for both extended journeys and everyday drives. Come along as we delve into the diverse facets of this automotive masterpiece!
Exhilarating Performance Of The Audi R7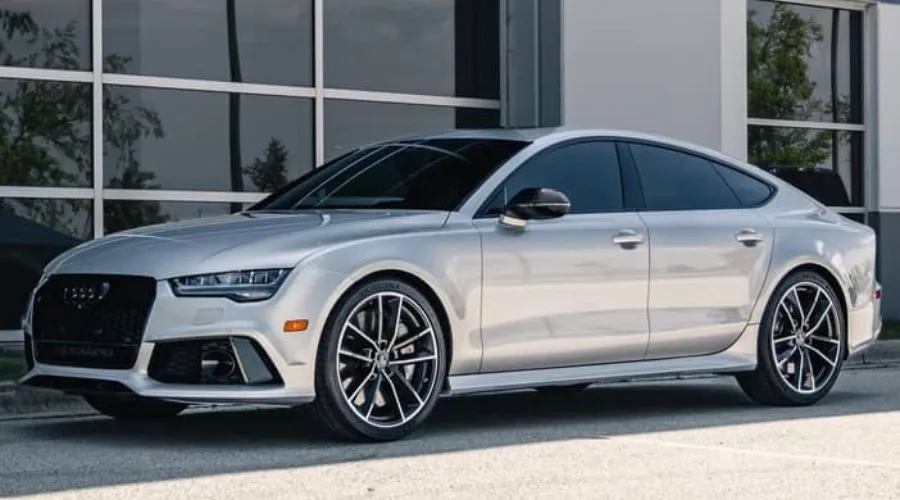 The Audi RS7 delivers a thrilling performance that ignites excitement. At its heart, the RS7 houses a twin-turbocharged 4.0-litre V8 engine that produces a remarkable 591 horsepower and 590 pound-feet of torque. This robust engine seamlessly partners with an eight-speed automatic transmission guided by an all-wheel-drive system. The RS7 sprints from 0 to 60 mph in an astounding 3.0 seconds, achieving a top speed of 155 mph (or an even more impressive 190 mph if equipped with the optional carbon-ceramic brakes).
The performance of the RS7 harmoniously combines excitement with fluidity. The engine offers abundant power for overtaking and merging, while the transmission delivers smooth and rapid shifts. With its advanced all-wheel-drive system, the RS7 provides exceptional traction regardless of weather conditions.
Moreover, the RS7 incorporates a host of performance-enhancing technologies, including a sport-tuned suspension, rear-wheel steering, and an electronic limited-slip differential. These innovations work in unison to transform the RS7 into a nimble and responsive masterpiece, enabling it to navigate corners with remarkable grace.
Design That Turns Heads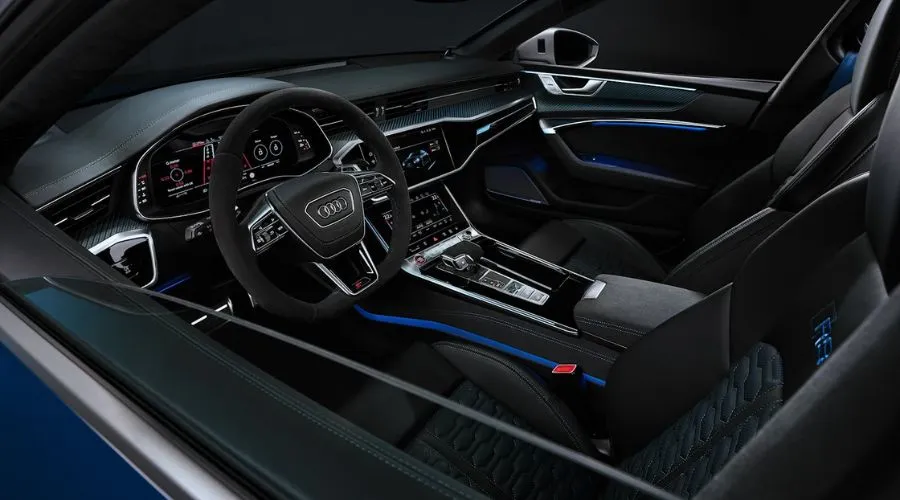 The Audi RS7 has a sleek and aggressive design that is both stylish and sporty. The front end features a large Singleframe grille with honeycomb mesh inserts, sharp headlights with LED daytime running lights, and a wide bumper with integrated air intakes. The sides are sculpted with character lines that give the car a muscular stance, and the rear end features a sloping roofline, a large rear diffuser, and quad exhaust pipes.
With a sleek and commanding appearance, the Audi RS7 presents a graceful union of sophistication and athleticism. Taking centre stage at the front is a generously proportioned Singleframe grille embellished with intricate honeycomb mesh patterns. Accompanying this are razor-sharp headlights that incorporate LED daytime running lights, seamlessly complementing a broad bumper designed with integrated air intakes. The vehicle's sides are meticulously sculpted, marked by defining lines that contribute to its robust and muscular stance. As the design flows towards the rear, the gently sloping roofline converges with a substantial rear diffuser, accompanied by a unique arrangement of four exhaust pipes.
A wide spectrum of color choices awaits prospective RS7 enthusiasts, including classic options like black, white, grey, red, and blue. Personalization extends further through an array of optional enhancements, such as the choice to integrate a carbon-fiber exterior package, 22-inch wheels, and an expansive panoramic sunroof.
Highlighted below are specific design attributes that elevate the Audi RS7's uniqueness:
The imposing Singleframe grille stands as a hallmark feature of Audi's high-performance lineage, its obsidian mesh enriched by honeycomb insets for an intensified aggressive allure.

Precision-engineered headlights house LED daytime running lights, endowing the vehicle with an instantly recognisable diurnal identity.

The expansive bumper not only integrates air intakes but also serves as a conduit for cooling both the engine and brakes, enhancing overall performance.

Artfully chiselled sides augment the car's muscular stance while simultaneously refining its aerodynamic efficiency.

A gracefully descending roofline in conjunction with the rear diffuser contributes to an aerodynamic silhouette, minimising resistance.

Distinctive quad exhaust pipes, emblematic of Audi's high-performance design, emit a resonant and commanding sound, poised to capture attention.
Technology That Enhances Your Drive
Experience an elevated driving journey with the Audi RS7, where technology takes your ride to the next level. Here's how the Audi RS7 excels in delivering top-notch technological innovations:
1. Cutting-edge 12.3-inch digital instrument cluster: This cluster furnishes the driver with a diverse range of information, encompassing speed, RPM, and navigation instructions. Furthermore, it can be personalised to exhibit varying data like performance metrics or media details.
2. Intuitive 10.1-inch touchscreen infotainment system: This system commands the car's audio, navigation, and climate settings. It also integrates Apple CarPlay and Android Auto, enabling seamless smartphone connectivity for accessing apps while on the go.
3. Immerse in exceptional sound with the Bang & Olufsen sound system: This remarkable setup boasts 19 speakers and a robust 1820 watts of audio power. It guarantees a high-calibre auditory experience for all occupants.
4. Stay connected with the on-the-go Wi-Fi hotspot: Facilitating connectivity for up to eight devices concurrently, this hotspot is ideal for maintaining internet access during extended road trips.
5. Elevate safety with driver-assistance functionalities: The RS7 comes equipped with an extensive array of driver-assistance tools, including forward collision warning, automatic emergency braking, blind-spot monitoring, and lane departure warning. These functions collectively contribute to accident prevention and enhanced driving security.
Beyond these attributes, the RS7 presents a range of optional technology selections such as a head-up display, night vision capability, and a surround-view camera system. These augmentations further elevate the driving encounter while bolstering overall safety.
Availability And Price
The Audi RS7 is offered in two distinct trim levels: the standard RS7 and the more potent RS7 Performance. With a starting price of $114,000, the base RS7 showcases its capabilities, while the RS7 Performance, priced from $120,000, delivers heightened power and performance.
The RS7 comes equipped with an extensive array of standard features, including leather upholstery, heated and ventilated front seats, a panoramic sunroof, and a premium Bang & Olufsen sound system. The standard package also encompasses a comprehensive suite of advanced safety features, ranging from forward collision warning to automatic emergency braking and blind-spot monitoring.
For those in search of further enhancements, the RS7 provides a range of optional features, spanning from a carbon-fiber exterior package to 22-inch wheels and an expansive panoramic sunroof.
Also Read: Find Out What is the Mercedes-AMG GT 63 Coupe All About
Conclusion
The Audi RS7 truly stands out as a remarkable car. It effortlessly combines elements of power, luxury, and technology in a way that sets it apart from its peers. If you're in the market for a vehicle that commands attention and gives you a sense of pure luxury, the RS7 should be at the top of your list. To keep up with more informative content like this, make sure to visit Noble Puma.
FAQs