Get ready to embark on an exciting journey as Toyota introduces the all-new Land Cruiser, where timeless reliability meets cutting-edge technology for enhanced off-road and everyday performance. While pre-sales for the UK and Europe are slated to kick off in the fourth quarter of this year, with deliveries commencing in the first half of 2024, we've got you covered with some intriguing insights into the Land Cruiser's history, performance, and design. Join us as we unravel the story of this dynamic automobile.
The Toyota Land Cruiser's Remarkable Journey Through Time
Imagine a vehicle with a history that spans over 70 years—a testament to rugged excellence. The Toyota Land Cruiser, born as the "Toyota BJ" on August 1, 1951, immediately showed its mettle by conquering Mount Fuji's challenging terrain. Its mission, unwavering since the beginning, has been to provide passengers with safety and security, even in the most demanding environments.
What sets the Land Cruiser apart is its evolution, shaped by the real-world experiences of adventurers worldwide. This ongoing refinement has solidified its reputation for reliability, durability, and the ability to conquer challenging roads. With over 11.3 million units sold across 170 countries and regions, the Land Cruiser is more than just a vehicle—it's a global icon and a testament to Toyota's unwavering commitment to automotive excellence.
Toyota Land Cruiser Performance – A Comprehensive Look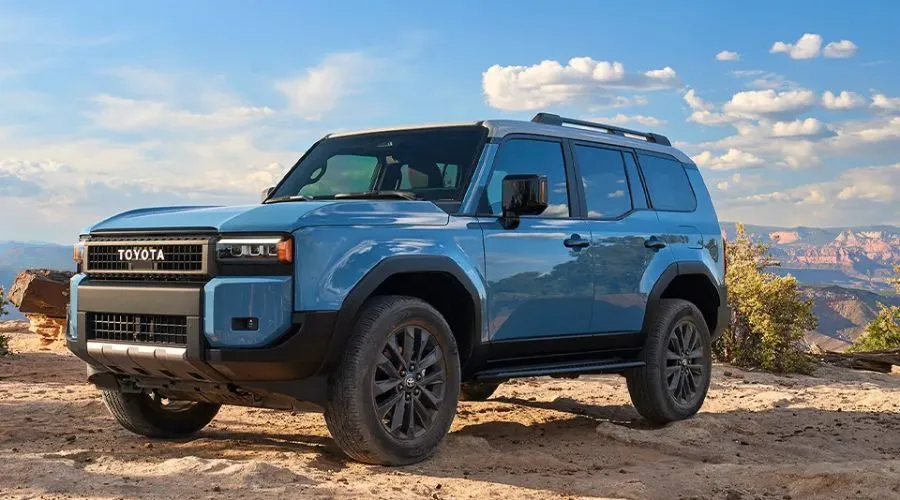 Enhanced Performance with GA-F Platform
The new Toyota Land Cruiser retains its classic, robust body-on-frame construction. It follows the larger Land Cruiser 300 (not available in Western Europe) in adopting Toyota's GA-F platform, which plays a key role in significantly improving off-road performance.
Simultaneously, the new model offers enhanced manoeuvrability and increased comfort for typical on-road driving, aligning perfectly with Toyota's dedication to creating a practical vehicle tailored to customers' everyday requirements.
Moreover, the new frame boasts a 50 percent increase in rigidity, with the combined body and frame rigidity improved by 30 percent. These substantial increases contribute to improved responsiveness, handling and ride comfort. Basic suspension performance has also been enhanced, notably to help secure increased wheel articulation – a critical factor in off-road driving capability.
New Electric Power Steering
This is the first Toyota Land Cruiser to use an electric power steering (EPS) system. This minimises the potential for disruptive feedback while navigating uneven terrains, resulting in a smoother and more precise steering experience, enhancing manoeuvrability across all speed ranges. Furthermore, the implementation of EPS enables the new Land Cruiser to incorporate Lane Tracing Assist within its comprehensive Toyota Safety Sense active safety and driver assistance package.
Disconnecting Front Anti-Roll Bar – a Toyota first
The new Toyota Land Cruiser gains further off-road capability with a new disconnecting front anti-roll bar. The groundbreaking technology, known as SDM (Stabilizer with Disconnection Mechanism), represents a pioneering advancement for Toyota. It empowers the driver to seamlessly toggle the status of the anti-roll bar (stabiliser) via a dashboard switch, marking a significant innovation in the automotive world. This flexibility allows for better driveability on rough roads, greater comfort, and easier handling in on-road driving.
Upgrades to the Multi-Terrain Monitor and Select
Offering enhanced assistance during off-road excursions, the Multi-Terrain Monitor employs a high-resolution camera and display to provide the driver with a clear, comprehensive view of the area in close proximity to and beneath the vehicle. In parallel, the Multi-Terrain Select system seamlessly adjusts the vehicle's performance to cater to the unique requirements posed by various off-road driving conditions.
---
Read More: Find Out What is the Mercedes-AMG GT 63 Coupe All About  
---
New Powertrain 
The new powertrain exemplifies Toyota's dedication to crafting a model designed and engineered to accommodate people's lifestyles and professional needs. This approach upholds the model's enduring reputation for reliability, as well as its exceptional performance both on and off the road.
In the UK and Western Europe, the new Toyota Land Cruiser will be introduced with a 2.8-litre turbodiesel unit engineered for a strong balance of fuel efficiency and performance. It generates a peak power output of 201bhp/150kW and is paired with a newly developed eight-speed Direct Shift automatic transmission, providing it with the capability to tow loads weighing up to 3,500kg. Additionally, an electrified powertrain, integrating the potent and efficient diesel engine with 48-volt mild hybrid technology, is scheduled for release in early 2025.
Design: Where Tradition Meets Modernity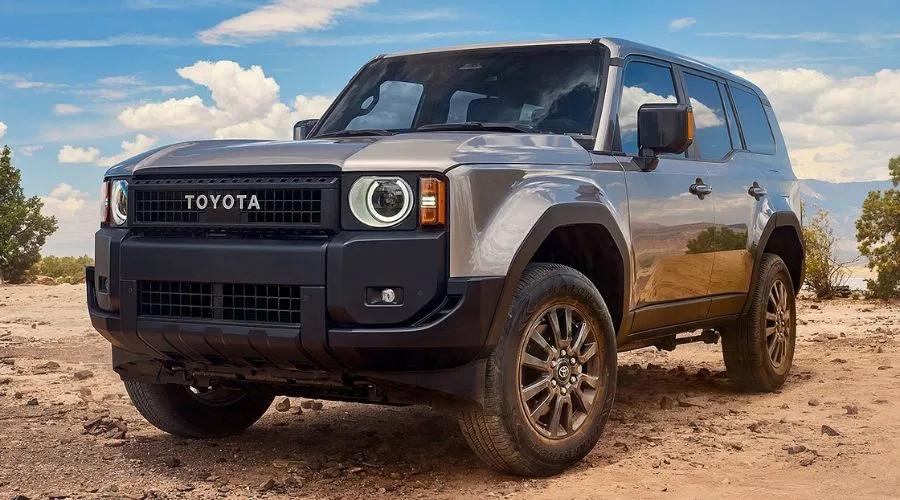 A Timeless Aesthetic Fusion
The design of the new Toyota Land Cruiser seamlessly blends tradition and modernity, giving rise to a look that transcends eras. This carefully curated aesthetic isn't just about style; it's a testament to the vehicle's ability to stand tall in the face of the harshest conditions. It's like the artistry found in top-tier professional tools—functional yet beautiful.
Robust and Practical Exterior
Take a closer look, and you'll find that the Land Cruiser's appearance exudes toughness and ruggedness, harking back to its roots. However, it extends beyond aesthetics; it emphasizes practicality. Every design choice adheres to the "form follows function" philosophy. Notice the shorter overhangs, the sculpted corners, and the leaner lower body? They're not just design elements; they enhance off-road performance. Plus, body parts are designed for easy replacement in case of damage, ensuring this vehicle's durability.
Embracing the Classic Silhouette
When you view it from the side, the Toyota Land Cruiser maintains its classic silhouette. Those strong horizontal lines are a nod to its heritage. Key dimensions tell a story: an overall length of 4,920mm, a width of 1,980mm, a height of 1,870mm, and a wheelbase of 2,850mm—all contributing to its iconic profile.
Interior Crafted for Functionality
Step inside, and you'll discover a world of versatility. The Land Cruiser offers both five and seven-seat configurations, designed to embody the strength and practicality expected of a true off-roader. The interior's thoughtfulness shines through—horizontally arranged instrument panels and user-friendly switches make every operation a breeze, even when navigating challenging terrains.
Prioritising Driver's Line of Sight
Safety and visibility go hand in hand. The Land Cruiser puts the driver's viewpoint front and centre. With a low-set cowl, a horizontally oriented instrument panel, and a lowered beltline, you get deeper side windows that vastly improve all-around visibility. In this Land Cruiser, you'll always see the way forward, no matter where the road takes you.
---
Also, Read- The Audi RS7: A High-Performance Luxury Sedan, Both Quick & Unerringly Comfortable
---
Conclusion
The Toyota Land Cruiser's seven-decade journey reflects unwavering excellence. From conquering Mount Fuji as the "Toyota BJ" to becoming a global icon, it's synonymous with reliability and toughness. Modern innovations like the GA-F platform, electric power steering, and versatile powertrains enhance its capabilities while preserving tradition. With a design blending ruggedness and practicality, the Land Cruiser's interior prioritises functionality and driver visibility. In essence, it's more than a vehicle; it's Toyota's commitment to reliability, durability, and automotive excellence. For more such updates on Land Cruiser Toyota, visit Noblepuma. 
FAQs