This wonderful sports car exemplifies engineering excellence with its strong interior, classic design, and powerful performance.
In this article, we have an in-depth analysis of the Porsche 911 GT3's rich history, state-of-the-art technological advancements, and the lasting impact it has made on the automotive engineering world.
Unique features of the Porsche 911 GT3
We will dive into the different features of the Porsche 911 GT3 in this section.
Price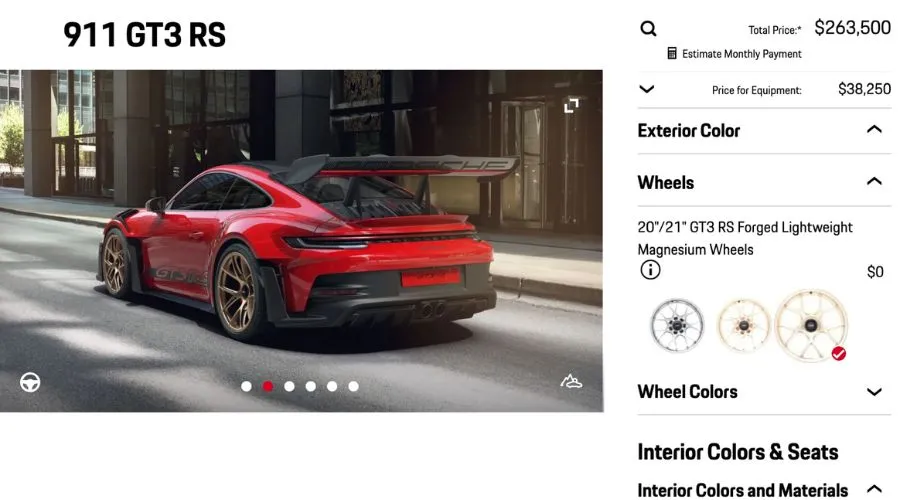 The Porsche GT3 has a base price of £146,400, which remains consistent regardless of whether you choose the standard model or the Touring version. The standard package includes four non-metallic colour options: basic white, and black, as well as Porsche's signature Guards Red and Racing Yellow. 
There are five metallic colour choices available for an additional £876. However, if you prefer one of the four distinctive 'Special' non-metallic hues, the cost increases to £2525. For those seeking even more personalisation, Porsche offers the option to paint your GT3 with one of their Porsche Exclusive PTS (paint-to-sample) colours or even a fully bespoke PTS shade. Keep in mind that these options may involve additional time and cost.
Interior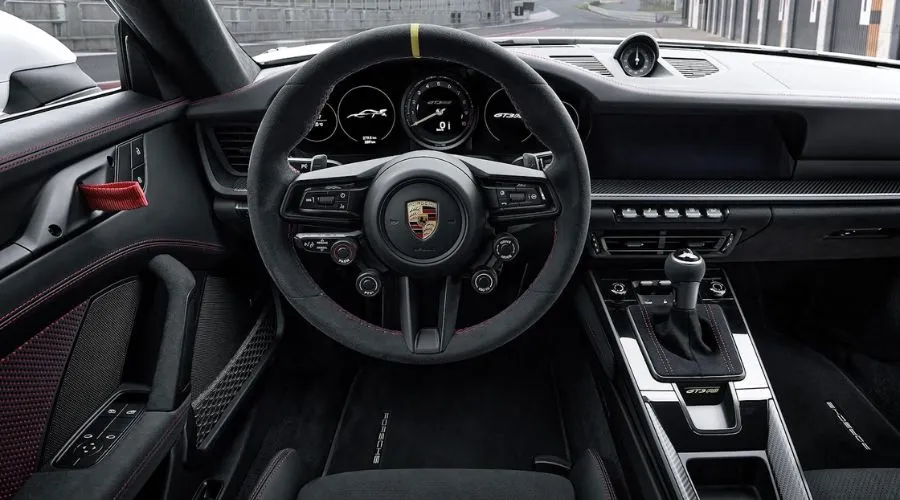 The GT3's interior largely retains the well-established design of the basic 911, ensuring a solid foundation. However, it incorporates bespoke elements that enhance the overall experience. Notably, subtle yellow accents appear around the gear selector, rev counter, and badging, adding a touch of uniqueness. The PDK's selector stands out as an old-school lever enveloped in Alcantara material. Apart from a slightly off-centre positioning, it closely resembles the manual shifter, except for the shift pattern.
In the GT3, you have the option to sit exceptionally low, accompanied by a steering wheel that is both smaller and slightly thicker compared to the base 911. When seated low enough, it extends toward you at nearly a 90-degree angle. Additionally, the pedal placement is perfectly aligned, ensuring an optimal driving position for both PDK and manual configurations.
Speed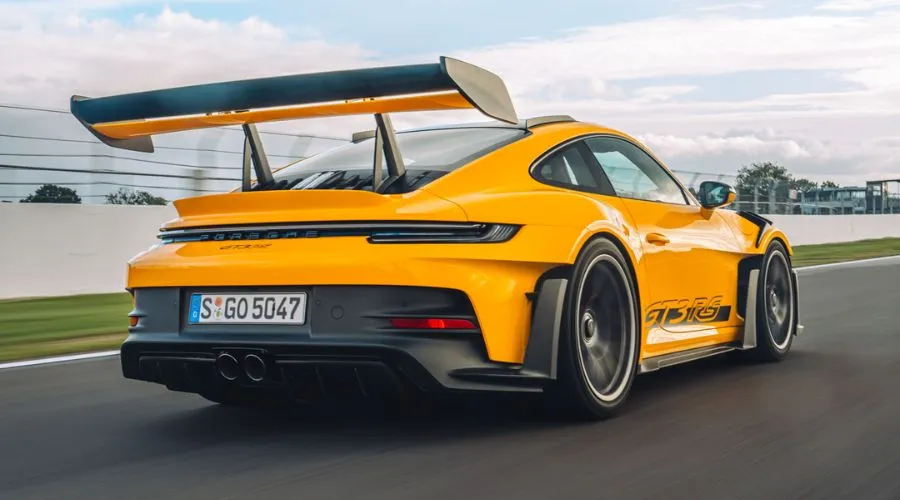 Cumulative increases in power and torque don't drastically alter acceleration figures, resulting in consistent 0-62mph times and top speeds for the PDK-equipped GT3 at 3.4 seconds and 198mph, respectively. Manual transmission variants take an additional half-second to reach 62mph, requiring assertive gear changes to dip below 4 seconds. However, they do achieve a slightly higher top speed, hitting 199mph.
In daily driving scenarios, the GT3's performance aligns with these numbers. The modest 347 lb-ft of torque doesn't provide abundant low- to mid-range power – a well-driven hot hatchback can outpace it. Yet, once you breach 4500rpm, the engine's character transforms. Instead of tapering off as it approaches the 9000rpm redline, it continues to deliver power. The high engine speeds may tempt you to upshift early, but the limiter remains distant.
---
Also, Read- Toyota Land Cruiser 2023: Dive Into History, Performance, Design, And Beyond
---
What's new in the 2023 Porsche 911 GT3 RS?
The 2023 Porsche 911 GT3 retains its naturally-aspirated flat-six engine, capable of revving up to 9000rpm, and offers an optional manual gearbox. Porsche plans to continue this unique formula for the upcoming 992.2 generation GT3.
Following are some of the mind-blowing features of the Porsche 911 GT3. 
– Spy shots of the test mules, including standard and wingless touring variants, showcase minimal changes to the front fascia compared to the current GT3.
– Porsche has introduced subtle modifications in line with the 992.2 range and for enhanced aerodynamics.
– Past facelifts have seen increased downforce levels, similar to those of the 997 GT3 RS.
– While design tweaks are anticipated, they are unlikely to be as radical as previous updates.
– The iconic swan-neck rear wing and rear deck lid appear nearly identical to the outgoing model.
– A camouflaged rear bumper hints at alterations, but diffuser profiles seem consistent for both standard and touring versions.
– The 992.2 facelift will focus more on the Carrera and Turbo models, which will feature hybrid powertrains for the first time.
– The 911 GT3 will retain its traditional character, with the 4.0-litre flat-six engine and manual/PDK transmission options.
– Incremental power increases are expected, maintaining the current car's 503bhp and 347 lb-ft outputs.
– Porsche will refine the GT3's road and track performance with updated geometry and suspension components.
– The 992.2 GT3's interior will receive a new fully digital dash panel, aligning it with the technology found in the Taycan.
How Porsche 911 GT3 is different from Porsche 911 GT3 RS?
| | | |
| --- | --- | --- |
| Feature | Porsche 911 GT3 | Porsche 911 GT3 RS |
| Engine | 4.0L flat-six | 4.0L flat-six |
| Horsepower | 502 hp | 518 hp |
| Torque | 346 lb-ft | 343 lb-ft |
| Transmission | PDK | PDK |
| 0-60 mph | 3.0 seconds | 2.9 seconds |
| Top speed | 197 mph | 198 mph |
| Weight | 3,153 lbs | 3,128 lbs |
| Price | Starting at $184,550 | Starting at $241,300 |
Conclusion
The Porsche 911 GT3 is considered the pinnacle of precision engineering for high-performance sports cars. Its reputation as a technical marvel is based on its evolutionary path of constant innovation and unwavering dedication to thrilling driving experiences. 
Porsche has been pushing sports car limits for decades, and the GT3 has always symbolised accuracy, power, and enthusiasm. This car goes all-out on track, surpassing its predecessors. Its specialisation and dedication make compromise unthinkable. It represents the type of vehicle a prominent brand like Porsche would produce if it knew that extreme, driver-centric, and track-focused piston-engined automobiles were nearing the end of their era.
Finally, if you want to read more such informative blogs related to sports cars, visit our website Noble Puma.
---
Also, Read- The Audi RS7: A High-Performance Luxury Sedan, Both Quick & Unerringly Comfortable
---
FAQs