Jackets for women come in a wide array of styles and materials, offering not only warmth and protection but also the opportunity to express personal fashion preferences. From the timeless sophistication of leather to the versatile charm of denim and the refined allure of blazers, women's jackets have the potential to become the focal point of any outfit. They are designed to cater to diverse occasions, seasons, and individual preferences, making them an indispensable addition to every woman's wardrobe. Whether you seek the warmth of a cozy winter coat, the chic appeal of a leather jacket for a night out, or the contemporary edge of a bomber jacket for a casual day, discovering the perfect piece can greatly enhance both your style and comfort. In the realm of women's fashion, the VICI shines as a trustworthy source for accessible, top-quality attire. Their thoughtfully curated assortment includes a variety of fashionable jackets for women, solidifying their reputation as a go-to destination for chic and affordable clothing.
The Best Jackets for Women That Are Trending
1. At Your Leisure Double Breasted Jacket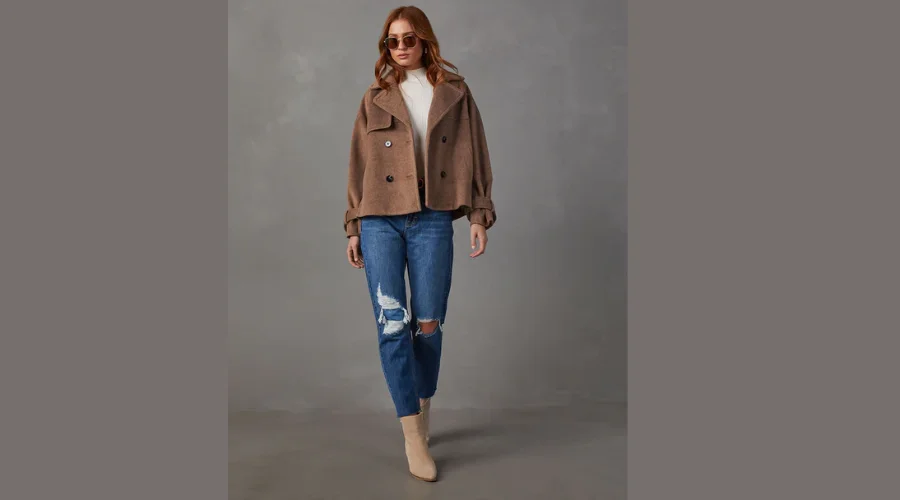 The At Your Leisure Double Breasted Jacket is a stylish and versatile choice among jackets for women. This jacket boasts a relaxed, boxy fit that exudes an effortlessly chic vibe. Its double-breasted design, notched lapel, and epaulets at the shoulders bring a touch of sophistication to your ensemble, making it a versatile addition to your wardrobe. With a rich mocha color that complements various outfits, it features convenient side pockets, front button closures, and a lining for added warmth and structure. Whether you prefer to wear it buttoned up for a more polished look or casually open with a tee and jeans, this jacket offers the perfect blend of fashion and functionality for any occasion.
---
2. Wildwood Cropped Shearling Jacket
This jacket features a cropped, boxy silhouette with a faux fur lining and faux fur trimming all over, adding a touch of luxury and coziness to your outfit. With convenient side pockets and front button closures, it's not only fashionable but also practical for chilly weather. Enhancing the jacket's appeal, the faux suede body, complemented by faux fur accents, imparts a distinctive and attention-grabbing texture. Fashioned from 100% polyester, this jacket seamlessly blends comfort with longevity, rendering it an excellent outer layer to enhance your autumn ensembles. The Wildwood Cropped Shearling Jacket, featured in a versatile and warm brown hue, stands as an essential addition to women's jacket choices.
---
3. Sonya Premium Faux Fur Jacket
This jacket combines the best of style and comfort with its seriously cool and seriously cozy design. Its cropped, boxy fit, hitting at the waist, adds a trendy touch to your fall wardrobe. With a luxurious faux fur fabric that oozes opulence, this jacket provides a lavish and warm layer for colder seasons. The Sonya Premium Faux Fur Jacket for women, available in an elegant oatmeal hue, is a standout piece among jackets for women. Notably, it features an open front design, without any closures, making it effortless to layer over your favorite fall outfits. Crafted from 100% polyester, both the shell and lining ensure a comfortable and durable wear. The Sonya Premium Faux Fur Jacket is the perfect choice to stay fashion-forward and snug during the chilly months.
---
4. Gloria Pocketed Tweed Jacket
The Gloria Pocketed Tweed Jacket for women, available in a timeless navy color, is the epitome of classic elegance. Designed to fulfill your tweed cravings, this jacket boasts a round neckline, open front, and side pockets adorned with chic gold buttons. The contrasting dark satin piping adds a beautiful frame to the jacket, enhancing its sophistication. Crafted from non-stretch tweed fabric and fully lined, it provides both structure and warmth. Whether your destination is the office or any other setting, the adaptability of this jacket enables a smooth shift from formal to informal contexts. Match it with a simple knit top and high-waisted bottoms to achieve an elegant and fashionable appearance suitable for a wide range of occasions. With its open front and no closures, this is a go-to choice among jackets for women.
---
5. Midland Oversized Denim Jacket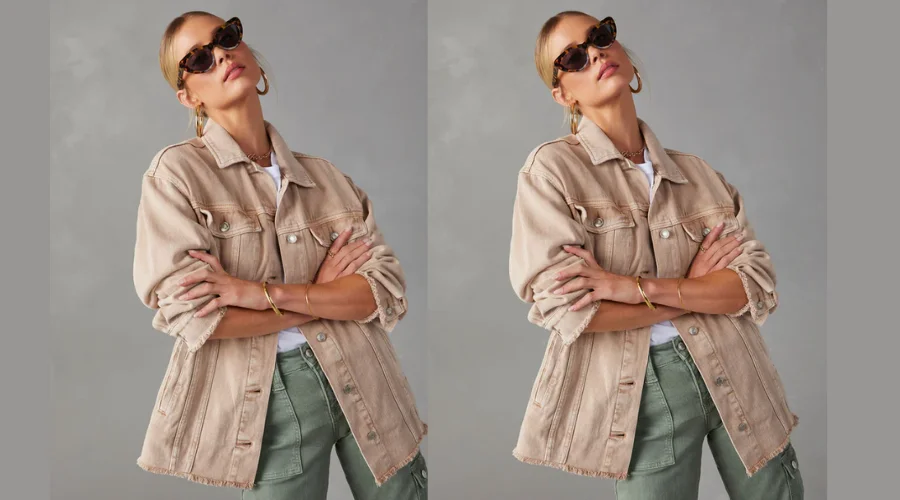 The Midland Oversized Denim Jacket for women, offered in a versatile beige color, is the perfect blend of style and comfort. This jacket boasts an oversized fit that's both trendy and comfortable, making it a standout choice among jackets for women. Featuring a collared neckline and long sleeves, it exudes a classic denim jacket vibe. The addition of bust pockets and side slip pockets adds functionality and style to this piece. The frayed hem and front button closures give it a casual and laid-back appeal, ideal for layering over various outfits. Crafted from 100% cotton, it offers breathability and easy maintenance with a machine-washable design. The Midland Oversized Denim Jacket is a must-have addition to your wardrobe, bringing together a relaxed fit and timeless denim style.
---
Tips on How to Style Jackets for Women
Consider the occasion: For a formal event or a professional setting, a well-tailored blazer can instantly make a strong, polished statement. A classic trench coat is a fantastic choice for a more formal occasion, adding sophistication to your ensemble. On the other hand, if you're headed for outdoor activities or a casual hangout, a sturdy parka or a utility jacket can keep you warm and stylish. When selecting the jacket, ensure it complements the overall ambiance of the event, helping you blend in effortlessly or stand out in all the right ways.




---

Layer strategically:

Jackets for women

are not just outerwear; they're an integral part of your outfit. Utilize them to create depth and visual interest. A denim jacket, for example, can be thrown over a lightweight summer dress, making it an excellent transitional piece as the seasons change. The interplay of textures and colors in your layers is where the magic happens. A faux fur jacket brings a luxurious, cozy element to an otherwise simple outfit, while a military-style jacket adds utilitarian flair. Mix and match styles and lengths for an outfit that not only keeps you comfortable but also reflects your personal style. When layering, consider the weather and the function of each layer to ensure both style and practicality.




---

Mix and match styles: Don't limit yourself to a single style of jacket. Experiment with various jacket styles and mix them into your wardrobe for versatility. For instance, a classic leather jacket can add an edgy touch to an otherwise casual outfit, and it pairs well with both jeans and dresses. When you combine different styles, you open up countless opportunities to express your personal fashion preferences. A cropped denim jacket for women might look fantastic with a flowy summer skirt, while a long-line puffer jacket can make a statement with leggings and boots. The key is to find your unique combinations that make you feel confident and stylish.
---
Conclusion
In conclusion, jackets for women are not merely functional outerwear; they serve as a canvas for personal expression and style. With an abundance of styles, materials, and design choices at their disposal, women can fashion a wardrobe that caters to every event and climate. Whether it's the timeless sophistication of blazers, the snug comfort of faux fur, or the rebellious charm of leather, the versatility of women's jackets is undeniably remarkable. VICI, with its commitment to offering affordable, high-quality fashion, stands as a beacon for those seeking the best jackets for women. Their carefully curated selection ensures that women can access a range of stylish and top-quality jackets, allowing them to stay fashion-forward, confident, and comfortable no matter the weather or occasion. For more information, visit Noblepuma. 
FAQs