Cocktail dresses are the ultimate fashion chameleons, seamlessly transitioning from weddings to prom nights and everything in between. Finding that perfect dress for these special occasions can be a breeze with the right choices.
A stylish cocktail dress may turn heads whether you're the prom queen, a bridesmaid, or a wedding guest. Look no further than the VICI for the best assortment of these adaptable combinations. 
We've curated a stunning range of cocktail dresses to ensure you look and feel your best on every memorable occasion.
How to Accessorize and Style the Cocktail Dress for a Memorable Prom Night?
Selecting the perfect cocktail dresses for prom is just the first step to creating a memorable look. Elevate your style and feel like a million bucks with these expert tips on accessorizing your dress:
Choose the Right Jewelry
Elevate your look with jewelry that matches your dress's neckline. Opt for statement pieces for strapless or low-cut dresses and more delicate jewelry for high-necked options.
Pop of Color with Shoes
Add personality to your ensemble by opting for shoes that inject a pop of color, especially if your dress is neutral. Coordinate shoe colors with patterned or solid dresses.
Don't Forget the Handbag
A handbag is essential for formal occasions like prom. Match the size and style of the handbag with the length and design of your dress.
Accessorize with a Shawl
Enhance elegance and stay warm during outdoor proms with a shawl or wrap.
Perfect Hairstyle and Makeup
Complete your look with a flattering hairstyle and makeup that compliments your dress and personal style.
These tips will help you create a stunning and memorable prom look with your cocktail dress.
Tips for Selecting the Right Style and Color of Cocktail Dresses
When it comes to selecting the ideal style and color for your cocktail dresses, several key factors demand consideration:
Occasion
The nature of the event you're attending is pivotal. Determine whether it's a formal affair like a wedding or gala, or a more relaxed gathering, such as a cocktail party or homecoming dance. This distinction guides your dress style and level of formality.
Body Type
Your body type plays a significant role in dress selection. Certain styles complement specific body shapes better. For instance, pear-shaped figures may opt for dresses with a fitted bodice and a flowing skirt, while those with an hourglass figure can accentuate their waistline.
Skin Tone
Choose a dress color that harmonizes with your skin tone. Fair-skinned individuals may lean towards pastels, jewel tones, or white cocktail dresses, while those with darker skin might favor bold hues or metallic shades.
Personal Style
Consider your personal style preferences. Do you lean towards classic or trendy designs? Are you inclined towards bold or subtle color choices? Your chosen dress should mirror your style and bolster your confidence.
Discover the Diverse Range of Cocktail Dresses Available at the VICI
Rip The Runway Faux Leather Midi Dress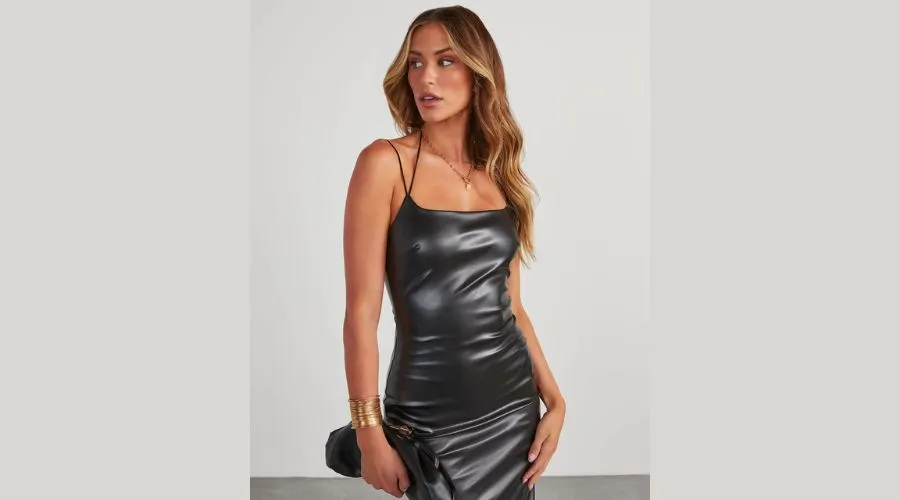 Elevate your style at fashion week and any semi-formal occasion with the Rip The Runway Faux Leather Midi Dress. This iconic dress boasts a striking square neckline, double spaghetti shoulder straps, and a back hem slit. Crafted from luxurious, shiny faux leather fabric, this edgy ensemble is catwalk-ready when paired with minimalist heels and accessories. Some of its features are:
– Luxe, high-shine faux leather fabric
– Double spaghetti shoulder straps for added flair
– Midi length with a sultry back hem slit
– Effortless back zipper closure
– No lining, allowing the dress's design to shine through.
---
2. Elisabeth Mock Neck Side Slit Ruched Midi Dress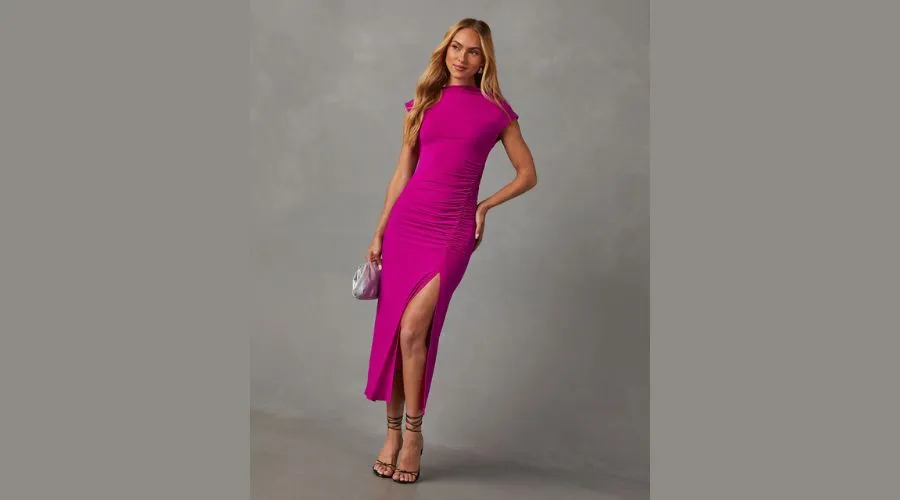 Effortless style for the on-the-go fashionista. The Elisabeth Mock Neck Side Slit Ruched Midi Dress is your perfect companion for fall adventures, and it dazzles in a stunning emerald hue. With a chic mock neckline, flattering ruching, and a sultry thigh-high slit, this midi-length dress is both cute and a closet essential. Complete the look with strappy-heeled sandals and a clutch. Its features are:
– Offers a smooth, tailored fit and stays true to size.
– Features short cap sleeves for added charm.
– Highlighted by side ruching and a thigh-high slit for a touch of allure.
– No fuss with closures; just slip it on and you're ready to go.
---
 3. Atwell Satin Fringe Trim Wrap Midi Dress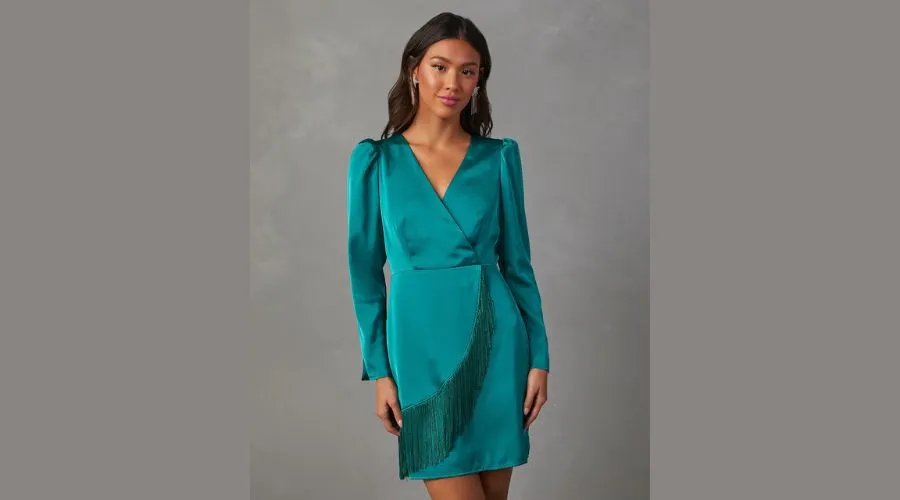 Exude timeless elegance with the Atwell Satin Fringe Trim Wrap Midi Dress. This dress defines the class with its wrap V-neckline, puffed long sleeves boasting cuff slits, and attention-grabbing fringe trim along the front. Crafted from lustrous satin fabric, it features a back vent, along with secure zipper and button closures. Whether attending a fall wedding or a cocktail hour, complete your look with metallic heels and accessories. Its main features are:
– Offers a tailored and fitted silhouette.
– Exudes sophistication with its wrap V-neckline.
– The statement fringe trim adds a touch of allure to the mini-length dress.
– Composed of 100% Polyester for a smooth and lustrous finish, both in the dress and its lining.
---
Conclusion
When it comes to turning heads at weddings, proms, or any special event, the choice of your cocktail dress is pivotal. With a wide selection of elegant plus size cocktail dresses for any occasion, the VICI has eliminated all uncertainty from the equation. 
You'll discover the ideal black cocktail dress that combines modern style with refinement, and elegance, and will make your special occasions even more memorable. Don't just attend an event; own it with the diverse collection of cocktail dresses for weddings from the VICI.
Furthermore, if you want to read more such fashion blogs, check out our website Noblepuma. 
FAQs