Prepare to stoke your enthusiasm for outdoor cooking, relish your palate, and make lasting memories with your loved ones while dining beneath the stars. Get ready to enjoy the magic of garden charcoal grills and take your outdoor eating to new heights.
With expert advice at your disposal, your backyard will be transformed into a culinary heaven that embraces the delectable aroma of charcoal grilling. This comprehensive guide shows you how to handle garden charcoal grills, a gourmet experience that combines the allure of nature with a sizzling symphony of tastes. 
But before learning about the tips and tricks, let us discover the best products available in the market for garden charcoal grills. 
Best options for garden charcoal grills
There are a number of top competitors for the best garden charcoal grills that meet different demands and interests. Some of the top-rated options are listed below:
1. Portable Charcoal Grill
Due to its small size, the Tramontina Churrasco portable grill is ideal for cooking a variety of meats and foods without taking up much room. Three legs add to the stability of its rounded black stainless steel construction, which is made to last. The accompanying cover enhances grilling, and the stainless steel grill provides long-lasting performance. The contents are easily accessible thanks to a handy grip. This grill, which has dimensions of 46 x 54 x 38 cm and can hold up to 1 kilogram of charcoal, provides a practical and effective grilling experience.
---
Also Read: Keyless Access: Determining the Best Electric Door Locks of 2023
---
2. Nexgrill Charcoal Grill
The 76 cm (30 inches) Nexgrill charcoal grill is perfectly crafted to offer plenty of outdoor cooking space, making it perfect for gatherings and special occasions. This grill provides unrivaled utility thanks to its simple folding side shelves and large 5,187 cm2 cooking space. It is made of sturdy black metal and has wheels for simple movement through various places. 
It has a roomy lower shelf that measures 1.29 x 1.54 m and 64 cm and offers additional storage space. Cooking activities are made easier by the grill's three grills and heating platform. It also has a charcoal tray, adjustable ventilation, a temperature gauge on the top, and other features for fine cooking control. Your go-to option for outstanding outdoor culinary experiences is the Nexgrill charcoal grill.
---
3. Weber Black Performer Grill
For picnics or garden parties, the 12-piece Weber Performer Package provides a flexible outdoor cooking experience. This grill guarantees top performance with a 22-inch porcelain-coated steel firebox, cooking grates, and charcoal. Its useful side table on wheels provides functionality and facilitates mobility. An integrated thermometer and a folding support allow for easy transportation on the enameled lid. 
The aluminum ashtray is detachable for simple cleaning, and the lower grill support is made of nickel-plated steel. It uses charcoal and has an aluminized steel one-touch cleaning mechanism as well. An apron, two glasses, a cookbook with four saucers, and necessary roasting tools including a silicone brush, spatula, and tongs made of sturdy stainless steel are all included in the set.
---
Top 10 tips & tricks for using garden charcoal grills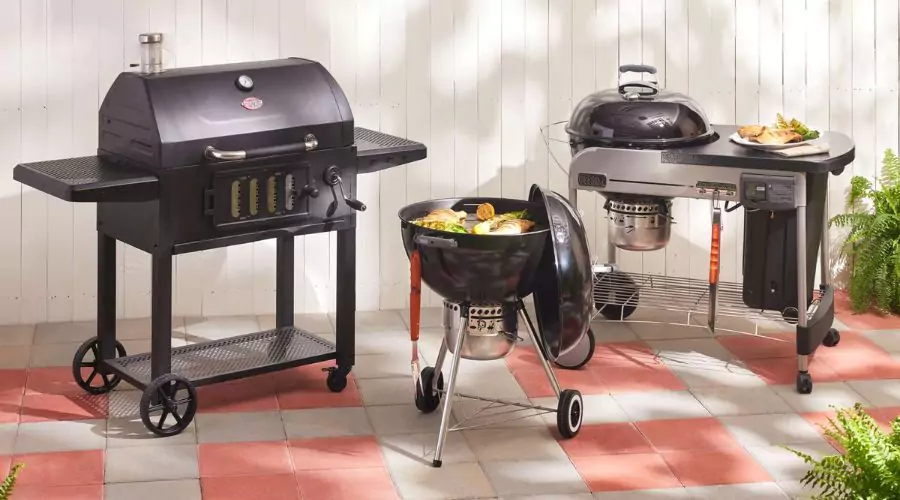 Owing to its distinct smokey flavor, using BBQ charcoal grills to prepare delectable foods can be a lucrative and exciting task. Here are some of the best pointers and advice for perfecting the charcoal grilling technique:
Prepare the charcoal: Start by building a mound of lump charcoal or charcoal briquettes in the middle of the grill to prepare the charcoal. To ignite the charcoal, use lighter fluid or a chimney starter. To prevent flare-ups, avoid applying lighter fluid directly on hot embers.

Wait for the coal to ash over: Allow the charcoal to burn until a coating of gray ash forms on the surface. This shows that the coals have attained the desired temperature and are prepared for cooking.

Keep controlling the heat: Control the heat by concentrating or distributing the coals for a lower or higher cooking temperature. The food will cook at a higher temperature the closer it is to the embers.

Create direct and indirect heat zones: Set up the grill to have direct and indirect heat zones by placing the coals on one side for direct heat, which is ideal for searing meat. Leave no coals for an indirect heat zone on the opposite side; this area is perfect for smoking or slow cooking.

Use woods chips for smoked flavour: Use soaked wood chips or chunks directly on the coals to provide an additional layer of smoky flavor. To determine your preferred flavor, try out various wood types like hickory, apple, or mesquite.

Keep the lid on: To maintain heat and smoke during grilling, keep the lid closed. Temperature changes and longer cooking times can happen from repeatedly opening the cover.

Check the internal temperature: Use a meat thermometer to check the internal temperature of the meat to make sure it is cooked to the ideal degree. This keeps food from overcooking and guarantees its safety.

Use aluminum foil for delicate foods: To prevent sticking and enhance flavor, place small or delicate foods like fish or vegetables on a piece of aluminum foil before grilling.

Clean the grill grates: Pre-heat the grill before using it, and then scrub the grates with a grill brush. By doing so, sticking is avoided and residue from earlier cooking sessions is removed.

Rest the meat: Let the meat sit for a few minutes after cooking it before serving. This enables the liquids to be distributed again, making the food more soft and tasty.
By using these best practices, you may improve your charcoal grilling abilities and produce mouthwatering meals that will wow family and guests with their undeniable smoky flavor. 
---
Conclusion
To sum up, the garden charcoal grills stand out as the culinary highlight of outdoor parties. Family and friends gathered around to enjoy its smoky embrace, which is laced with the flavor of grilled treats. Stories are exchanged, relationships are built, and memories are imprinted on the hearts of everyone who participate amidst the flickering flames. The garden charcoal grills transform from a simple cooking tool into the lifeblood of balmy summer evenings and special occasions. So, let the garden charcoal grills continue to kindle a blaze of culinary explorations, producing an unending symphony of flavor and connection in the center of every backyard oasis, as the stars twinkle above.
If you are searching for cheap charcoal grills, visit the official website of Home Depot MX. Additionally, for blogs related to home decor, you can visit our website, Noble Puma.
FAQs