Picture yourself sipping on a glass of the world-famous Port wine, surrounded by terraced vineyards that seem to cascade down the hillsides, amidst the beaut of Portugal. When you think of cities that radiate charm, culture, and charisma, Holidays to Porto stands tall among the luminaries of European destinations. This bustling Portuguese gem, is set along the breathtaking Douro River, is a multifaceted wonderland where history and modernity intertwine in a captivating dance. In this blog, Noblepuma will help you analyse what holidays to Porto has to offer and how you can save a tonne on these Holidays to Porto. 
1. Things to Do on Holidays to Porto 
1. Fado Show by Ideal Clube de Fado
Experience the genuine and soul-stirring art of Traditional Fado Show in an intimate setting, a departure from the typical tourist venues. This exclusive concert offers a unique opportunity to delve into the world of Traditional Fado, guided by the passionate artists of the Ideal Clube. Enjoy the emotive melodies and poignant lyrics, accompanied by one complimentary drink per person, be it the famed Port wine or refreshing water. For those seeking a deeper connection, the optional meet-and-greet with the talented performers is a remarkable add-on.
2. Porto City Cruise and Hop-On Hop-Off Combined Tickets
Cruise along the river, taking in panoramic views of the city's iconic bridges and landmarks. Disembark to explore Casa da Música and Museu de Serralves, immersing yourself in the city's vibrant culture. Visit the UNESCO World Heritage Site in the historic centre and end your journey at the renowned Calém Cellars. Here, you'll delve into the rich history of the Douro region and Port wine production. Explore the well-preserved cellars and savour exquisite Port wine tastings. With an audio guide, discounts, and a 48-hour hop-on-hop-off bus ticket, this package ensures a comprehensive and unforgettable Holidays to Porto adventure.
3. Private Boat Cruise on the Douro River at Sunset
Discover Porto's rich history on a 2-hour sunset cruise, where you'll explore one of the world's oldest cities in style. As you sail along the Douro River, enjoy a backdrop of music, immersing yourself in the enchanting cityscape. Take in picturesque views of Porto's riverside, Foz do Douro, and Vila Nova de Gaia, home to the renowned wine cellars. Indulge in complimentary snacks and a welcome drink, ensuring a delightful journey. 
4. Private Yacht Cruise on the Douro River
Revel in stunning views of Porto City, featuring iconic landmarks like the D. Luís Bridge and the charming Ribeira district. Glide along the Douro estuary and glimpse the enchanting Vila Nova de Gaia, home to renowned wine cellars and the famous cable car. Your day is complemented with delightful snacks, a warm welcome drink, a serene river cruise, and comprehensive insurance coverage, ensuring a worry-free and enjoyable outing. 
2. Top Picks for Hotels on Holidays to Porto
1. Eurostars Porto Douro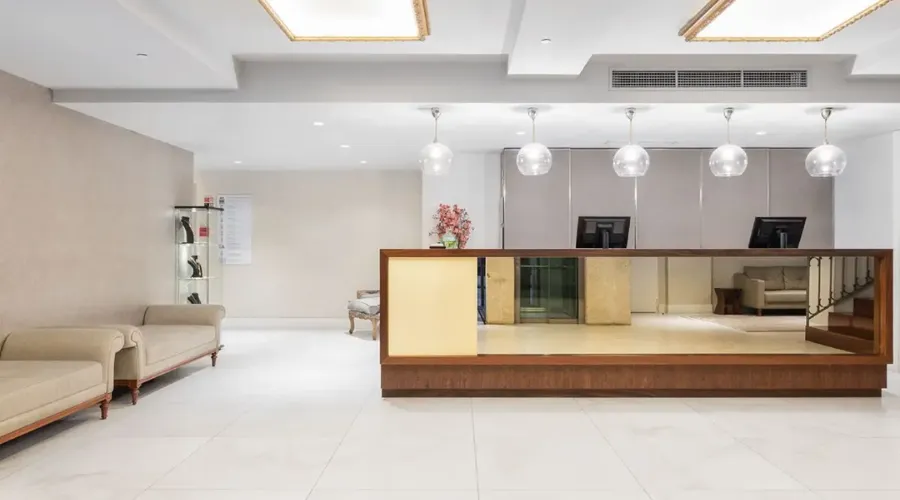 Overlooking the Douro River and just steps away from Porto's main tourist attractions, the Eurostars Porto Hotel offers a central and traditional stay. The hotel is merely 290 metres away from the iconic Dom Luis I Bridge in the vibrant Ribeira district. The hotel also has many local restaurants and bars within arm's reach.
The hotel's rooms are thoughtfully equipped for a restful stay, featuring modern amenities and elegantly modern furnishings. The decor exudes a refreshing ambiance, creating a comfortable atmosphere. Free Wi-Fi is available throughout the building, and the minibar offers delightful snacks for enjoying while watching the flat-screen TV.
2. HF Fenix Porto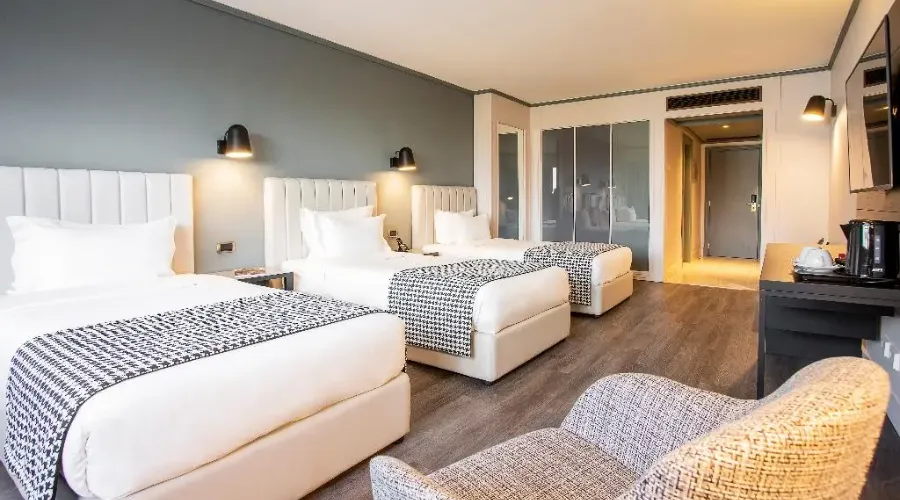 This urbane hotel is a perfect find if you want the best of modern amenities on your holidays to Porto. The HF Fenix Porto is a bright, spacious, and modern hotel, offering a convenient base for exploring one of Europe's most attractive cities. Situated just outside the historic centre, a 30-minute walk away, it boasts excellent connectivity with numerous bus stops nearby and the Casa da Musica metro station a mere 10-minute stroll away. Guests will find the bustling Bom Sucesso food market and the Cidade de Porto shopping complex around the corner. The rooms exude a light and airy ambiance with supremely comfortable beds, while higher floors provide captivating city and Douro River views. Start your day with a satisfying buffet breakfast and, later on, unwind in the bar with pre-dinner cocktails.
3. Vila Gale Porto Ribeira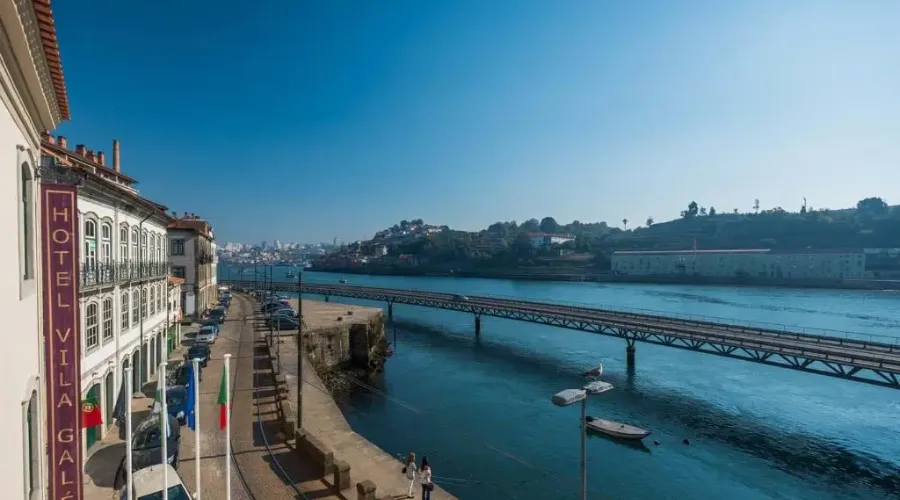 The hotel's commitment to sustainability has earned it numerous certificates, evident in its paperless approach, with check-in, menus, and local information seamlessly delivered through tablets, TVs, and online resources. Furthermore, the hotel features an electric car charging point for environmentally conscious travellers.
Guests can savour beautiful river views from the reception, lobby, and select rooms during their holidays to Porto. Each morning, a delectable buffet breakfast awaits, and there's a cosy on-site bar for unwinding. A leisurely stroll towards the city reveals charming riverside cafés where you can relish a custard tart and coffee while observing the world gracefully drift by. Vila Gale Porto Ribeira promises an idyllic stay along the Douro, perfectly balancing convenience and sustainability.
ALSO READ : Unlocking Hidden Savings: A Guide To Book Cheap Flights To Portugal
---
Conclusion
Porto is nothing short of every wanderlust's dream with its vibrant culture and many-many experiences that it has to offer to you! This Portuguese treasure is an intoxicating blend of history, culture, and vibrant life that will envelop you in a warm, effervescent embrace you won't soon forget. To find the best deals on tour packages and hotels on holidays to Porto, visit easyJet today. All the packages and the hotel deals will help you ensure that your holidays to Porto are fun and affordable- all at the same time. For more information, visit Noblepuma. 
FAQs