French door refrigerators are a popular choice these days as they offer the best of both worlds. They have the sleek, modern look of a side-by-side refrigerator, but they also have the convenience of a bottom-freezer refrigerator. The split-door design of French door refrigerators allows you to access the refrigerator compartment from the centre, which makes it easy to see and reach all of your food. The freezer compartment is located at the bottom, which is a more convenient location for storing frozen foods.
French door refrigerators also come with a variety of features that make them even more user-friendly. Many models have adjustable shelves and drawers, so you can customise the storage space as per your needs. Some models also have features like ice makers, water dispensers, and humidity-controlled drawers. If you're looking for a stylish and functional refrigerator, French door refrigerators will be a great option. In this blog, we will explore the best French door refrigerators available on Home Depot, focusing on two renowned brands, Samsung and LG, known for their exceptional quality and innovative features. Let's dive in.
Wide selection of french door refrigerators on Home Depot
Home Depot, a leading home improvement retailer, offers a wide range of French door refrigerators to suit various preferences and kitchen sizes. Whether you're looking for a large-capacity refrigerator or a compact one for a smaller space, Home Depot has got you covered. Additionally, you can find top-notch brands known for their reliability, energy efficiency, and cutting-edge technology. Among these, Samsung and LG stand out as market leaders in the realm of French door refrigerators. Let's check out 5 top options available on Home Depot.
---
1. LG French Door Instaview Door-In-Door Linear Inverter Refrigerator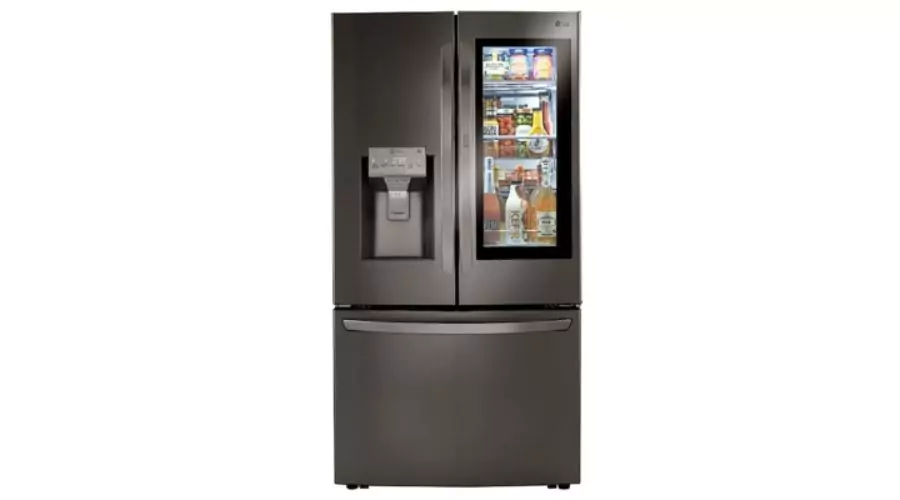 The LG French Door Instaview Refrigerator is a true marvel of modern kitchen technology. Boasting a generous capacity of 30 cubic feet, this refrigerator provides ample storage space for all your fresh and frozen essentials. But what truly sets this LG model apart is its innovative Instaview Door-in-Door design. With just two quick knocks on the sleek glass panel, you can peer inside the door without actually opening it, allowing you to easily grab frequently used items like beverages and condiments while keeping the cold air inside to maintain food freshness.
Another standout feature of this LG refrigerator is its Dual Ice Maker, which ensures you never run out of ice, even during gatherings and parties. The Sphere Ice Craft functionality takes ice-making to the next level, creating perfectly round ice spheres that not only chill your drinks efficiently but also add a touch of elegance to your cocktails.
With its stylish and modern design, this LG French Door Refrigerator complements any contemporary kitchen decor. Its Linear Inverter technology ensures energy efficiency and quiet operation. It also has a multi-airflow system that maintains consistent temperatures throughout the fridge, keeping your food fresh and flavoursome for longer. If you seek French door refrigerators that combine innovation, convenience, and style, the LG French Door Instaview Door-In-Door Refrigerator is an excellent choice.
---
2. French Door Refrigerator 28 Feet Black Matt Without Dispenser
Sleek, sophisticated, and black – the Samsung French Door Refrigerator with a 28-foot capacity is a stunning addition to any kitchen. The elegant black matt finish sets it apart, making it a focal point of your kitchen decor. This model forgoes a dispenser for a clean and seamless exterior appearance. Despite its slim and stylish profile, the Samsung French Door Refrigerator doesn't compromise on storage space. The refrigerator's interior is thoughtfully designed with adjustable shelves, door bins, and spacious drawers, providing you with flexible storage options for all your groceries and perishables.
Samsung, renowned for its technological innovations, equips this refrigerator with advanced cooling features to ensure your food stays fresh for a longer duration. The Twin Cooling Plus system maintains optimal humidity levels, preventing freezer burn and keeping fruits and vegetables crisp and flavorful. With its energy-efficient design and impressive performance, it is one of the best French door refrigerators for those seeking a modern and efficient option.
---
3. LG 28 Ft French Door Silver Refrigerator With Dispenser – GM28LIP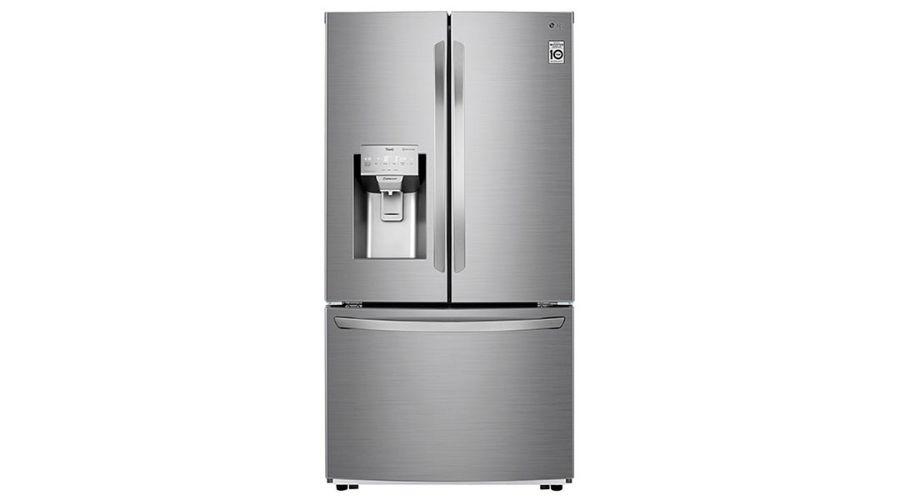 The LG 28 Ft French Door Refrigerator not only elevates your kitchen's aesthetic but also enhances your daily food storage and user experience. The silver finish exudes a contemporary and sophisticated vibe, making it a standout piece in your kitchen. The dispenser feature provides easy access to filtered water and ice, perfect for quenching your thirst on hot summer days or quickly filling up a pitcher for family gatherings.
Inside, you'll find well-organized compartments and shelves designed to accommodate a variety of groceries and beverages. The spacious crisper drawers maintain optimal humidity levels, keeping your fruits and vegetables fresh and full of nutrients. This is one of those French door refrigerators that boasts excellent energy efficiency. With its spacious capacity and thoughtful features, this LG refrigerator is an excellent addition to any household.
---
4. Samsung Bespoke FDR 29 Panel Foot Refrigerator
For those who prioritise personalisation and uniqueness, the Samsung Bespoke FDR 29 Panel Foot Refrigerator is a great option. This refrigerator allows you to customise its appearance by adding panels that match your kitchen cabinetry or decor. A cool feature for those who like their French door refrigerators to seamlessly blend with their kitchen's overall design. Beyond its customisable exterior, the Samsung Bespoke FDR 29 delivers exceptional performance and ample storage space. With a 29-cubic-foot capacity, it easily accommodates the needs of a busy household, providing enough room for groceries, leftovers, and party preparations.
Samsung incorporates its Twin Cooling Plus technology, ensuring that the refrigerator and freezer compartments maintain separate temperature and humidity levels. This feature helps preserve the quality and flavour of your food for longer periods. The thoughtful layout inside the refrigerator enhances organisation and accessibility. Adjustable shelves, door bins, and spacious drawers make it a breeze to store and retrieve items of various sizes.
---
5. LG French Door Linear Inverter Refrigerator With Door Cooling 25 Feet – Platinum – LM65BGSK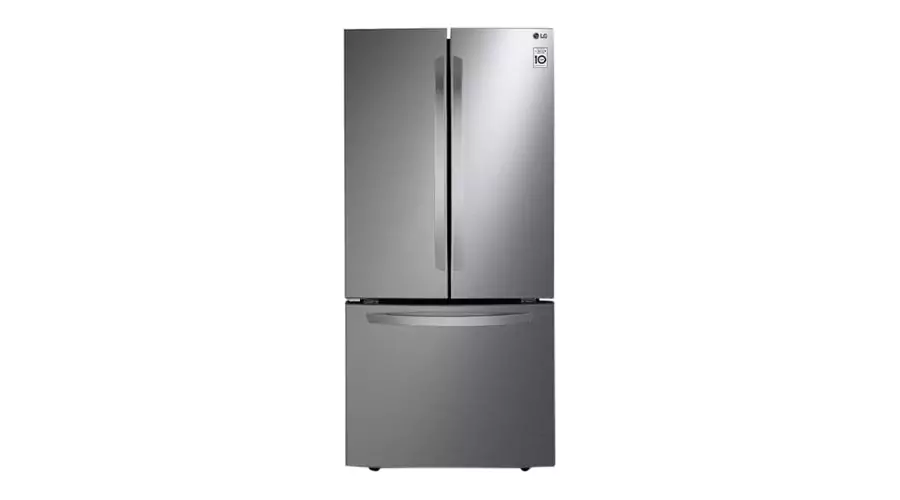 The LG French Door Linear Inverter Refrigerator strikes a perfect balance between modern aesthetics and reliable functionality. With 25 cubic feet of capacity, it efficiently caters to the needs of a medium to large-sized family. One of the standout features of this LG refrigerator is its Door Cooling technology. The refrigerator's exterior is complemented by hidden hinges and contoured doors, contributing to its sleek and seamless appearance. Inside, you'll find an intelligently designed layout with adjustable shelves and door bins, offering flexible storage options for groceries of all sizes. 
The full-width crisper drawers keep fruits and vegetables fresher, for longer, reducing food waste. With its energy-efficient linear inverter compressor, the LG French Door Refrigerator operates quietly and minimises energy consumption, keeping both your kitchen and utility bills in check. If you seek a reliable and visually stunning refrigerator that excels in preserving food freshness, the LG French Door Linear Inverter Refrigerator is an excellent choice.
---
Conclusion
French door refrigerators offer an ideal blend of style, functionality, and convenience, making them a popular choice for modern kitchens. The Home Depot provides a wide selection of top-notch French door refrigerators, with Samsung and LG standing out as reputable brands known for their innovative features and exceptional quality. Browse through their wide selection to find the perfect option for your kitchen. For more such updates, visit Noble Puma.
FAQs