Coffee tables have been an essential piece of furniture in living rooms around the world. They serve as the centerpiece of the room, often adorned with decorative items, books, and, of course, a steaming cup of coffee. However, the purpose of a coffee table goes far beyond mere aesthetics and convenience. Additionally, these tables provide storage and organization solutions, helping keep the living room tidy and functional. Let's explore with NobelPuma the various roles a coffee table plays in our lives, from providing a gathering place for social interactions to serving as a functional and versatile piece of furniture.
Why are coffee tables a must-have for every home?
1. The Social Hub
The Coffee tables act as a social hub within the living room, fostering interactions and conversations among family members, friends, and guests. They are positioned in the center of the seating area, they create a gathering point where people can sit, relax, and engage in meaningful discussions. Whether it's sharing stories, playing board games, or simply enjoying a cup of coffee, these tables provide a space for connection and intimacy.
---
2. Storage and Organization
One of the most practical purposes of a coffee table is its storage and organization capabilities. With various designs and styles available, these tables often come equipped with drawers, shelves, or even compartments that offer space for storing various items. From remote controls and magazines to books and blankets, these tables help keep the living room tidy and clutter-free. By providing a designated spot for everyday essentials, coffee tables contribute to a sense of order and functionality in the space.
---
3. Display and Decor
Coffee tables serve as a canvas for personal expression and a platform for displaying cherished objects. Through carefully selected decorations, such as vases, sculptures, or framed photographs, individuals can showcase their unique style and personality. These tabletop arrangements add character to the room and act as conversation starters, reflecting the interests and experiences of the homeowners. Furthermore, these tables offer an ideal surface for displaying art books, collectibles, or plants, infusing the living room with life and beauty.
---
4. Multi-Purpose Functionality 
Coffee tables are incredibly versatile, adapting to a variety of needs and activities. They can function as a workspace for laptop users or a surface for board games and puzzles. By incorporating additional features, such as adjustable heights or extendable surfaces, some tables even transform into dining or study tables, maximizing their functionality in smaller spaces. Moreover, these tables can be easily moved around to accommodate different seating arrangements, making them adaptable to various social settings.
---
5. Aesthetic Enhancement 
While the purpose of a coffee table extends beyond aesthetics, its visual appeal should not be underestimated. Coffee tables come in multiple styles, materials, and designs, allowing homeowners to choose one that complements their existing decor or acts as a statement piece. From sleek and minimalist to rustic and vintage, coffee tables enhance the overall aesthetic of the living room, tying together different elements of the space and adding a touch of sophistication.
---
Versatile and best coffee tables you can find on Home Depot:
1. Folding Metal Coffee Table
This folding coffee table from Home Depot crafted with a rust-resistant, waterproof, and durable metal structure, offers the perfect blend of versatility, convenience, and elegance. The compact size and portable nature make it a flexible piece of furniture that can be moved and adapted to various spaces easily. The removable tray adds a practical touch, serving as a service tray. It's white powder coating not only enhances its visual appeal but also ensures durability and protection against daily wear and tear. This table is a perfect addition to your living room or outdoor area.
---
2. Melamine Coffee Table: Chocolate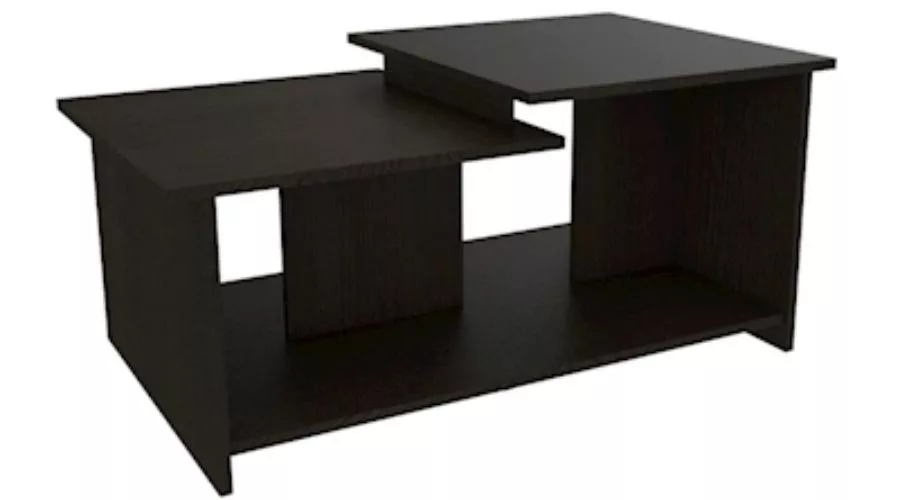 A coffee table made of high-resistance melamine with a thickness of 15 mm, in a delightful chocolate-colored design, is a perfect addition to your living room or study. Its durability, easy assembly, and functional shelves make it a practical choice. The ability to match other products in the line allows you to create a cohesive and stylish living space. The warm and inviting aesthetics add a touch of elegance to any room, while the easy maintenance ensures its long-lasting appeal. Whether you want to display decorative items or keep essentials within reach, this chocolate-colored melamine coffee table combines functionality, versatility, and aesthetics to enhance your living experience.
---
3. Bertolini Parati Pine Coffee Table
Adding a mirror cover to your home decor can instantly transform the ambiance of any space. With its contemporary design, the mirror cover made of MDP (Medium Density Particleboard) and finished with a UV paint finish offers both functionality and style. Its long-lasting durability and easy-to-clean surface make it a practical choice for your home. The linear lines of its contemporary design, coupled with the beautiful mirror top, create a sense of sophistication and spaciousness. 
---
4. Set Of Round Coffee Tables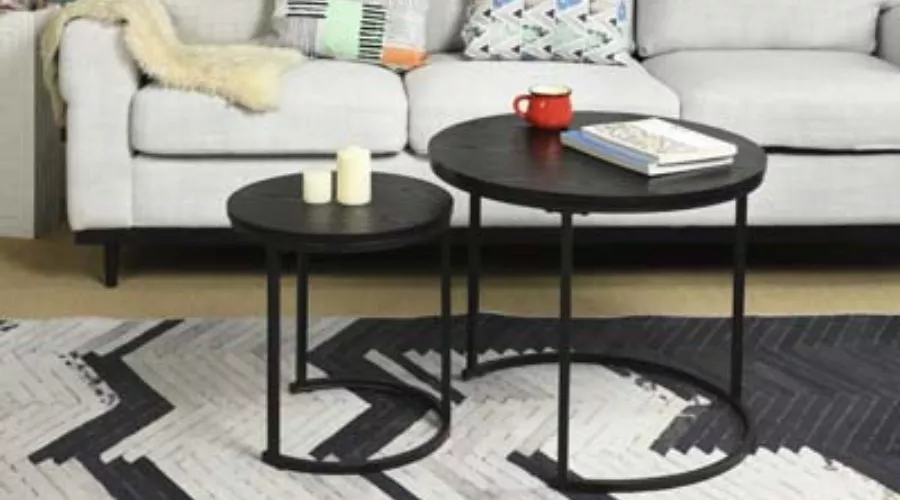 If you're looking to enhance the functionality and aesthetic appeal of your home, this coffee table set of 2 from Home Depot is a perfect choice that combines quality craftsmanship and style. This set can add both style and functionality to any living space. This two-piece set, consisting of a round coffee table and end table, offers a high-quality and authentic mix of MDF (Medium-Density Fiberboard) and metal construction. With a sleek black spray paint finish and a waterproof surface, these coffee tables are not only visually appealing but also easy to clean. 
---
5. Bertolini Sahara Pine Off-White Coffee Table
This textured UV paint finish coffee table stands out as a stylish and versatile addition to any home. Its distinctive textured finish and UV paint coating add visual intrigue and durability, while the inclusion of wheels ensures easy and simple handling. Whether placed in the living room, bedroom, study, or patio, this table seamlessly adapts to any environment, complementing a variety of interior styles. Moreover, its excellent cost-benefit ratio makes it a valuable investment that delivers both aesthetic appeal and practicality.
---
Conclusion
The purpose of a coffee table goes far beyond its surface-level function. It serves as a social hub, promoting meaningful interactions and conversations. They act as a platform for displaying cherished objects, reflecting the homeowners' personality and creating a visually appealing atmosphere. With their multi-purpose functionality, coffee tables from Home Depot adapt to different needs and activities, offering versatility in smaller spaces. Lastly, their aesthetic appeal enhances the overall decor of the room, completing the design scheme and creating a cohesive environment. For more information on modern coffee tables, visit Noble Puma.
FAQ's