In the enchanting realm of weddings, where love and celebration combine, fashion takes center stage, offering guests a chance to showcase their unique style and elegance. The journey to find the perfect wedding guest dresses is nothing short of an adventure, where excitement meets the challenge of striking that impeccable balance between chic allure and season-appropriate attire. 
Regardless of the wedding setting, be it a grand formal affair or a relaxed beach celebration with the sound of waves in the background, the quest for the ideal wedding guest dresses concludes here. Embark on this exploration with us as we unveil a curated selection of wedding guest dresses, each tailored to grace various wedding settings. From ethereal gowns for formal events to breezy, vibrant dresses for beach weddings. Let us guide you through the world of wedding guest dresses, where every stitch, fabric, and style is crafted to make you shine amidst the love-filled atmosphere of these joyous occasions.
VICI, Where Style Becomes a Lifestyle
At VICI, style is not just a choice, it's a way of life. Founded by Sandy and Aimee Dudum, a dynamic mother-daughter duo, its mission is to make fashionable clothing accessible to all. They believe that style knows no boundaries, and everyone deserves to look and feel their best. Expert stylists curate the latest trends and timeless classics, ensuring you are effortlessly well-styled for every occasion life throws your way.
From daily drops to carefully curated collections, they cater to the fashionista in you, ensuring you find the perfect outfit for every moment. Whether you're attending a wedding, stepping into the office, or jet-setting across the globe, VICI is your go-to destination for fashion that speaks volumes about your unique style and personality.
Top Collection of Wedding Guest Dress
Thalia Strapless Floral Midi Dress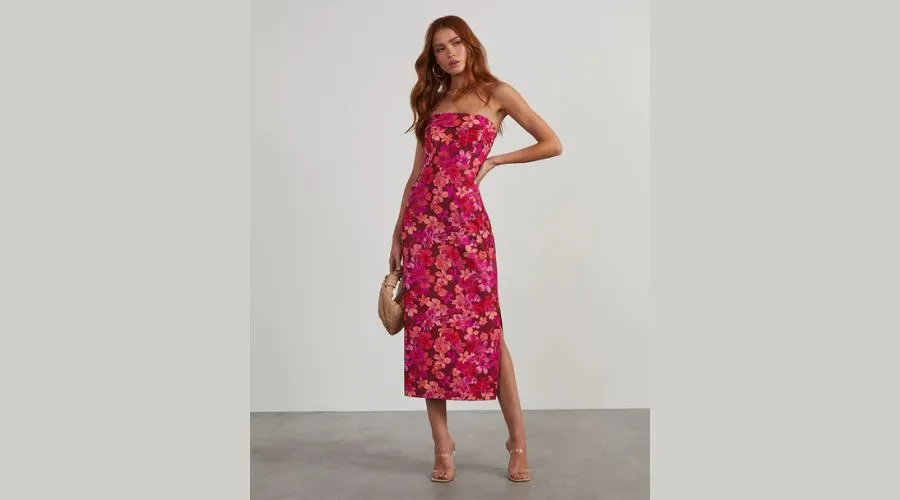 In the enchanting embrace of autumn, where nature paints the world in warm hues and the air carries a subtle crispness, fall weddings unfold with a distinct charm. It's a season of romanticism, where the changing leaves mirror the transition in life and love. Embracing the essence of this magical season requires attire that mixes with the surroundings. The Thalia Strapless Floral Midi Dress, with its vibrant floral print reminiscent of the blooming colors of fall, captures the very spirit of this enchanting time. 
Its thigh-high side slit adds a touch of charm, allowing you to move gracefully while exuding confidence. This dress becomes more than just fabric and threads, it becomes a statement, a symbol of embracing the warmth of fall and celebrating love amidst the rustling leaves. As you don the Thalia Strapless Floral Midi Dress, you become a part of the natural canvas of the season, where your elegance resonates with the ambiance, making you an unforgettable presence at any fall wedding.
---
2. Dahlia Strapless Floral Slit Maxi Dress
This wedding guest dress has a delicate sweetheart neckline, a detail reminiscent of classic romance, while a ruffled side slit adds a playful touch, allowing just a glimpse of skin as you move. The flowy silhouette of the maxi dress not only adds an element of grace but also mirrors the gentle rustling of leaves in the autumn breeze.
As you slip into this enchanting attire, you embody the very essence of fall romance, becoming a vision of elegance and charm. The dress becomes a canvas upon which the colors of autumn come to life. Choosing the Dahlia Strapless Floral Slit Maxi Dress isn't just about wearing a garment, it's about embracing the enchantment of the season and becoming a living, breathing ode to love and beauty amidst the autumnal splendor.
---
 3. Atwell Satin Fringe Trim Wrap Midi Dress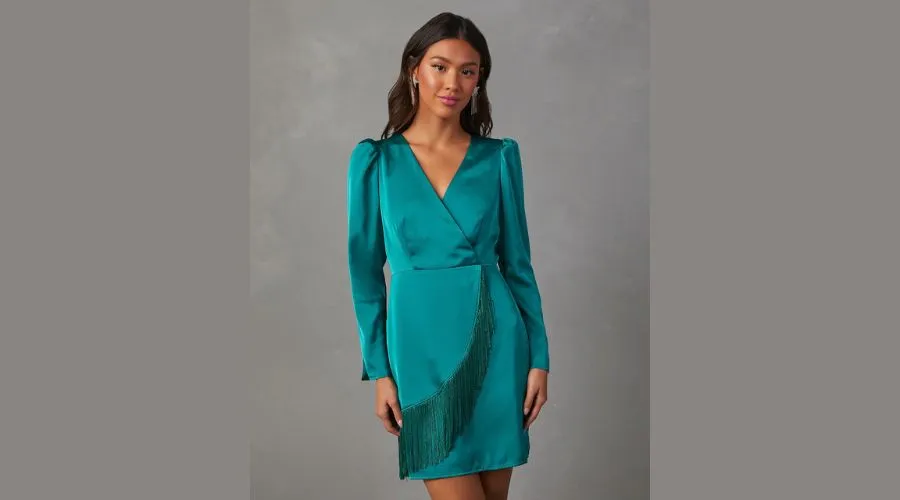 When it comes to formal weddings, the attire you choose must embody grace, sophistication, and an air of timeless elegance. In this regard, the Atwell Satin Fringe Trim Wrap Midi Dress stands as the epitome of refined fashion. Imagine yourself in this exquisite creation, the wrap V-neckline adds a touch of charm, accentuating your neckline with subtle grace. The puffed long sleeves lend a sense of regality, while the statement fringe trim along the front creates a mesmerizing visual effect, capturing the light with every movement. 
It's not just a dress, it's a statement, a manifestation of poise and style that befits the grandeur of a formal celebration. As you glide across the ballroom floor in the Atwell Satin Fringe Trim Wrap Midi Dress, you become a vision of sophistication, commanding attention and leaving an indelible impression.
---
 4. Grayling Ruched Floral Bell Sleeve Dress
Imagine the charm of its square neckline, a timeless silhouette that exudes sophistication and frames your collarbone with grace. The bell sleeves, a signature element of the era, add a touch of whimsy to your ensemble, swaying gently with your every movement. As you slip into this dress, you transport yourself to a bygone era, where fashion was a vibrant expression of individuality and creativity. The ruched detailing on the body not only adds texture but also accentuates your curves, offering a flattering fit that compliments your figure. 
With every petal of the floral pattern, you embody the essence of contemporary elegance merged seamlessly with vintage charm. The Graylynn Ruched Floral Bell Sleeve Dress becomes more than just an outfit, it becomes a journey through time, a celebration of style evolution.
---
 5. Capriccio Satin Floral Ruffle Maxi Dress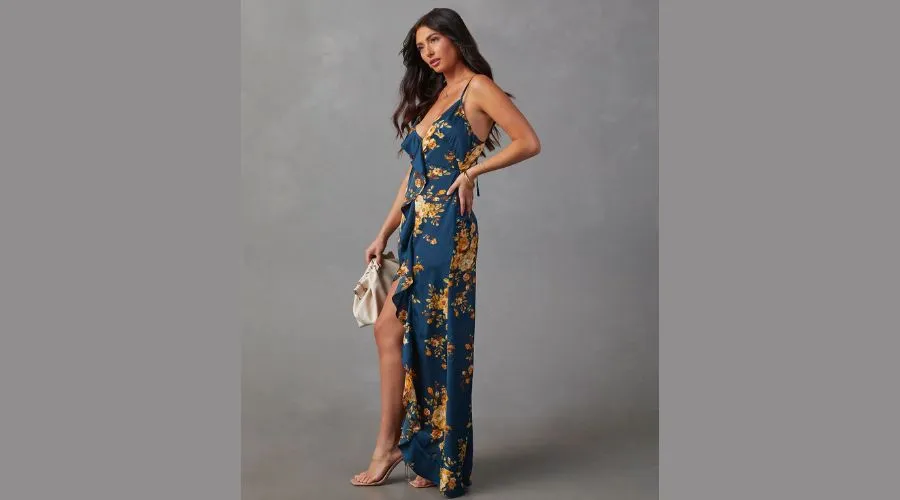 The Capriccio Satin Floral Ruffle Maxi Dress emerges as the quintessential choice, embodying the essence of beachside elegance. Picture yourself in its soft embrace, feeling the gentle caress of the satin fabric against your skin. The floral detailing, reminiscent of blooming seaside flowers, adds a touch of natural charm, perfectly mirroring the coastal surroundings. The dress's drape neckline accentuates your collarbone, creating an alluring silhouette that complements the beachy backdrop with effortless grace. 
What makes it truly versatile are the adjustable spaghetti straps, ensuring a comfortable fit as you move from sandy shores to the dance floors. This dress becomes your companion in the dance of the ocean breeze, allowing you to sway and twirl with ease. The Capriccio Satin Floral Ruffle Maxi Dress isn't just an outfit, it's a testament to beachside glamor, a harmonious blend of style and practicality that allows you to revel in the joy of the celebration, becoming a radiant presence amidst the seaside splendor.
---
Conclusion
In the enchanting world of weddings, your wedding guest dresses should be as memorable as the love-filled moments you witness. With our curated selection of wedding guest dresses, you're not just attending an event, you're making a statement, exuding elegance, and embracing your individuality. Let your style speak volumes with VICI at the next wedding you attend, and let the memories of your impeccable wedding guest dresses be as everlasting as the love that surrounds you. For more information, visit Noblepuma.
FAQ